Jean Campbell murder: Accused 'may have killed' dog walker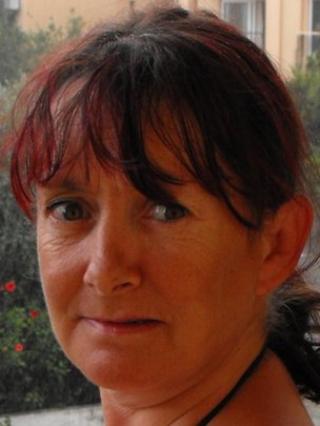 A man accused of murdering a dog walker told his mother he did not know if he killed her, a court has heard.
Paul Ward made the claim in a telephone call to his mother from Barlinnie Prison but a psychiatrist said this was not reliable as he was psychotic.
The 21-year-old denies killing Jean Campbell, 53, by striking her with a dog lead in Cranhill Park, Glasgow, on 13 December 2013.
He has been deemed unfit to stand trial on mental health grounds.
Mr Ward is currently detained at the State Hospital at Carstairs.
Evidence is being heard at an examination of facts hearing at the High Court in Glasgow, at the end of which, judge Lord Matthews, will determine if Mr Ward committed the offence.
The court heard that Mr Ward was arrested over Mrs Campbell's murder in July and placed on remand at Barlinnie.
A transcript of one call he made to his mother, while in the jail, was read out in court.
'Hearing stuff'
Mr Ward told her: "What happened to that woman, I think it might have been me. I don't know...I've been hearing stuff in my head. I think I may have hit her once. I don't know."
The court heard that Mr Ward was transferred to the State Hospital in September after he was displaying what was described as bizarre behaviour.
Dr Isobel Campbell, consultant forensic psychiatrist at the State Hospital, told the court that she examined Mr Ward and said it looks increasingly like he suffers from a schizophrenic illness.
The court heard that Mr Ward refused to drink water, although he did take Coca Cola, would be mute for days apart from shouting out random words and was convinced that police and prison officers were involved in a conspiracy against him.
The court heard that Mr Ward was reading the Bible so much that the guards took it away from him.
Dr Campbell added: "He also thought his thoughts were being breathed out and other people could access them."
She was asked what Mr Ward had told her when she spoke to him and replied: "What he described is a particular experience where he was in his cell. It was dark and there was a sudden shaft of light and a cross appeared on the cell wall. He had a feeling of euphoria. He interpreted this as having some profound significance.
"He has described hearing a voice saying: 'Did you do it?' and him replying: 'I don't know' and then having an extraordinary feeling of joy."
Defence QC Donald Findlay then said: "It appears that this young man now believes he had been told by God that he should be pleading guilty to this," and she replied: "That is my understanding."
Home bugged
The psychiatrist added: "He appears to have difficulty knowing what is memory and what is what other people have told him."
Mr Findlay said: "His home was bugged for a month and he says nothing. He did not say anything about doing this and after he was arrested he protested his innocence. What reliance can we place on him then saying God has told him to plead guilty?"
Dr Campbell replied: "I think that little reliance can be placed on it."
The psychiatrist was asked if she thought that Mr Ward was play acting and said: "I think that's extremely unlikely."
Advocate depute Alex Prentice QC, prosecuting, asked Dr Campbell: "Knowing what you know about Paul Ward if he had expressed displeasure at the way in which he thought Jean Campbell treated her dog might that lead to a compulsion to do something about it," and she replied: "It is possible."
Judge Lord Matthews asked if Mr Ward was suffering from psychosis and Dr Campbell said: "He is very preoccupied, in particular, by the religious experiences. He has some quite odd behaviour: licking his fingers. counting out loud and giggles inappropriately."
She told the court he also complains of suffering hallucinatory visions at times when he is trying to sleep.
Mother-of-six Margaret Callanan, 60, told the hearing that after rumours swept Cranhill suggesting that Mr Ward may have killed Mrs Campbell, she spoke to him in late March 2014.
Mrs Callanan, who lives in Cranhill, was visiting a friend and spoke to Mr Ward when he was there.
'No reaction'
Mrs Callanan said: "I asked him "Did you murder Jean Campbell'".
She was asked by prosecutor Mr Prentice: "What was his response," and replied: "No response. He didn't say anything."
The mother of three boys and three girls was asked if she had said anything else to Mr Ward and replied: "Yes, I said: 'If you didn't murder Jean you must know something about it.'
When asked what Ward's reaction was she replied: "No reaction. Head down."
Under cross-examination by defence QC Donald Findlay she was asked: "Were rumours all over Cranhill as to who may or may not have been responsible for Jean Campbell's death and one of those names was Paul Ward," and replied: "Yes, that's right."
Mr Findlay then said: "How would one of your boys react if their name was getting bandied all over the place," and Mrs Callanan said: "They wouldn't like it at all."
The QC then asked: 'They would be sick of it," and she said: "Correct."
Mrs Campbell's body was found before 08:00 on 4 December 2013 by her husband John, a nightshift worker, who was worried when he came home to find her and their German Shepherd dog Kai missing.
He searched where she normally walked the dog and found her body and the dog nearby.
The trial before judge Lord Matthews continues.