Castle Toward buyout plan collapses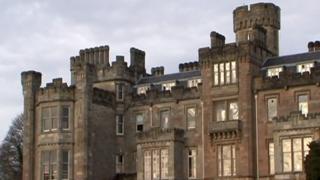 Plans for a community buyout of a 19th century country house have collapsed after a disagreement over its price.
Argyll and Bute Council leaders wanted the community to pay £1.75m for Castle Toward.
The council dismissed attempts by the South Cowal Community Development Company to buy the former outdoor education centre for £850,000.
That price had been based on an alternative valuation done for the group by estate agents Savills.
The council administration refused to allow a vote on the offer at a special meeting on Thursday, and officials will now be instructed to end further negotiations on a community buyout under right-to-buy legislation.
'Number of criticisms'
The community group had hoped to turn the B-listed house and the 143 acres that surround it into a facility that would include nature trails, mountain biking, a tourism hub, community allotments, retail craft space and a tea room.
It said it had a tenant ready to move in who would have created 80 jobs and invested £4m to restore the castle.
But a council spokesman said their advisers had made "a number of criticisms" of the £850,000 valuation being cited by the community and they stood by their asking price figure of £1.75m that it said had been provided independently by a Scottish government appointed district valuer.
Argyll and Bute SNP MSP Michael Russell said the council had acted in an "utterly disgraceful" manner, and accused it of "using trickery" to defeat the buyout plans for the estate, which sits on the Cowal peninsula south of Dunoon.
'National interest'
Mr Russell, the former Scottish education secretary, told BBC Scotland: "The community had an anchor tenant ready to move in, it had secured money to restore the castle, and it was taking a lot of money to do that, and it had jobs guaranteed in the area.
"Everybody wanted this to happen except the small group of people who are the administration and senior officers of Argyll and Bute Council.
"There is a national interest in this, and this will also lead to strong pressure, which I support, for changes to the law to make sure this can never happen again.
"I will be looking to amend the Community Empowerment Bill to make sure that local authorities could never do this to their own communities again."
The existing Mansion House on the estate was built in 1820 by Kirkman Finlay, a former Lord Provost of Glasgow, as his family's country house.
The estate was bought by the Corporation of Glasgow in the 1940s and was used as an educational facility.
Its ownership passed to Argyll and Bute Council in 1996 after local government reorganisation and the authority has been trying to sell the estate for the past few years.