Support team to tackle A&E wait times at Royal Alexandra Hospital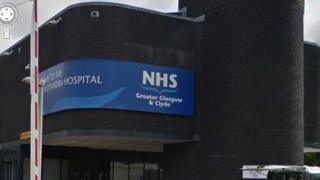 The Scottish government is sending in a support team to help cut accident and emergency waiting times at the Royal Alexandra Hospital in Paisley.
Unscheduled care managers will work with hospital staff to identify ways to speed up treatment.
In January, it emerged one patient had waited 20 hours for a bed.
The head of NHS Scotland apologised to patients and said it had been a "challenging winter" for A&E departments across Scotland.
Chief executive Paul Gray said: "I recognise that all staff have been working extremely hard in our NHS to ensure patients get the best possible care.
"However, I'm concerned that performance is not recovering as quickly as it should at the Royal Alexandra Hospital and it is clear to me, through our performance monitoring and management, that the board needs support to help them ensure patients are seen and treated in A&E within the appropriate timescale."
"Having discussed this with the board chief executive in line with our normal escalation procedures, I have today provided specialised support to work with NHS Greater Glasgow and Clyde to deal with the current level of demand, and an extended support team will be in place at the beginning of next week.
"This action will help identify issues where they exist and prioritise actions that can be taken to improve A&E performance."
'Improved performance'
In January, NHS Greater Glasgow and Clyde admitted that 2,400 people across the health board area waited more than four hours for treatment over the Christmas period.
Figures published last week showed that in December, across the health board area, 84% of people waiting at A&E were seen within four hours.
Robert Calderwood, chief executive of NHSGGC, said: "There has been a lot of learning across Scotland in recent months about various different approaches to improving efficiency of patient flows in A&E's and I am hopeful that some of that learning may prove to be appropriate for the RAH to help our teams on the ground deliver improved performance in the weeks and months ahead
"I would reiterate that the board and our staff remain committed to meeting the highest levels of service provision for the patients we serve and every opportunity to improve on our current challenged performance is welcomed."
Scottish Labour said there was "an A&E crisis in Scotland".
The party's health spokeswoman Jenny Marra said: "The SNP government in Edinburgh now have to take responsibility for the failures that have happened on their watch."