Rothesay Pavilion revamp gets go-ahead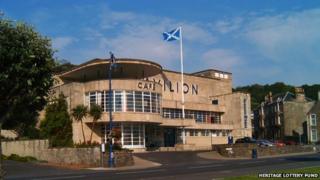 One of Scotland's most significant surviving Art Deco buildings is to be revamped after project leaders reached a funding target of £8m.
Argyll and Bute Council and the Prince's Regeneration Trust are leading efforts to restore the Grade-A listed Rothesay Pavilion on the Isle of Bute.
A Heritage Lottery Fund grant of £3m means the project can now go ahead.
The pavilion, which dates back to the 1930s, will close in the autumn, with re-opening scheduled for summer 2017.
The closure later this year will allow time for surveys and the removal of furniture and attachments, before construction work begins in January 2016.
'Modern facility'
Council leader Dick Walsh said the renovation of the pavilion could bring lasting benefits to Rothesay.
"With all the major funding in place we can now get on with delivering the project and creating a fabulous, modern facility for culture, tourism and sport," he said.
"The council's top priority is creating the right conditions for jobs in Argyll and Bute and this project will do just that."
Rothesay Pavilion sits at the end of the town's Victorian Esplanade, with views of Rothesay Bay, and across to the Cowal Peninsula and the Renfrewshire and Ayrshire coasts.
It was built in the era of the "Big Band Sound", and was designed to host dancing and conference events as well as flower shows, weddings and sports activities.
The new pavilion will be operated by the Rothesay Pavilion Charity, which will lease it from the council.
Chair of the pavilion charity, Dr Nick Merriman, said: "It's very exciting now to be at the point where we can really begin to put into action the plans that have been developed over a long period, and to look forward to the re-opened Pavilion making such a difference to people's lives locally."