New DNA facility gives hope of 'cold case' justice in Scotland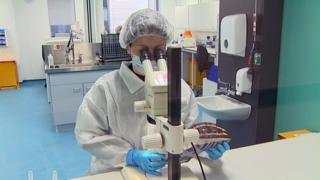 A new £6m DNA-profiling facility has been unveiled which is claimed to be the most advanced in Europe and could hold the key to solving cold cases.
The new technology is based at the £75m Scottish Crime Campus at Gartcosh in North Lanarkshire.
Previous profiles looked at 11 areas of a person's DNA. The new facility looks at 24. The European standard is 17.
The improvement means scientists can now obtain DNA profiles from smaller or lower-quality samples than before.
Tom Nelson, director of forensics for the Scottish Police Authority (SPA), which operates the centre, said the new DNA facility was the best in Europe.
Cold case hope
He said: "DNA24 provides the criminal justice system in Scotland with the most sensitive and informative DNA profiling results currently possible.
"It offers a major step forward in enhancing the contribution forensic services can make to the pursuit of justice in Scotland.
"This technology will be particularly invaluable in processing samples for cold cases."
Mr Nelson said DNA24 would be "pivotal in processing DNA samples" which had "been held on file for many years" and were "likely to be of poorer quality".
He added: "It will also allow the authorities in Scotland to reach back in time, with the potential to rekindle justice for those who had all but given up hope."
The Scottish Crime Campus, which opened last year, is occupied by agencies including the police, forensics, customs and the prosecution service.
The crime campus is located on the site of a former steelworks at Gartcosh which closed in 1986. The building runs across on four floors occupying over 22,500 sq m of floor space.
Justice Secretary Michael Matheson visited the campus for the launch of the new DNA testing facility.
He said: "As well as being a vital tool in the armour for tackling organised crime and terrorism, this facility will be invaluable in the investigation of historical cold cases, helping bring answers to the families of victims of crime who are still waiting for justice to be served.
"These facilities should also serve as a powerful deterrent for potential criminals too, as our ever more sophisticated systems and technology means our justice agencies are tackling crime head on. There is nowhere for criminals to hide."