Police submit Glasgow bin lorry crash report to prosecutors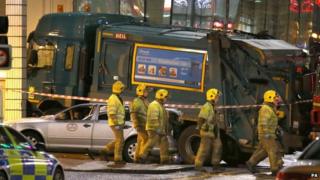 Police investigating a bin lorry crash that killed six people in Glasgow city centre have submitted their initial report to prosecutors.
The Crown Office said it would issue an update by the end of February on timescales for any criminal proceedings or a fatal accident inquiry.
The inquiry has been looking at the circumstances of the 22 December crash.
Ten people were also injured when the lorry careered out of control in Queen Street and crashed in George Square.
Families updated
A Crown Office spokesman said: "The Crown Office has today received an initial report from Police Scotland on the investigation into the bin lorry crash in the centre of Glasgow.
"This is in addition to the regular updates we have been receiving from Police Scotland on the progress of the investigation since the crash on December 22nd.
"The Crown will now consider the initial police report and by the end of February we will provide information as to the timescale of further investigations required for any criminal proceedings or FAI."
The statement added: "Specialist staff from the Crown Office and Procurator Fiscal Service will keep the families advised on progress and support them throughout all stages of the investigation."
A private mass was held for Stephenie Tait, 29, at Saint Thomas the Apostle Church in Riddrie, Glasgow on 5 January.
A service for Erin McQuade, 18, and her grandparents Lorraine, 69, and Jack Sweeney, 68, was held at St Patrick's RC Church in Dumbarton, West Dunbartonshire on 3 January.
Services were also held for tax worker Jacqueline Morton, 51, from Glasgow, and Gillian Ewing, 52, from Edinburgh.
The 57-year-old driver of the bin lorry was discharged from hospital earlier this month.