Former Glasgow MP Mohammad Sarwar resigns as governor of Punjab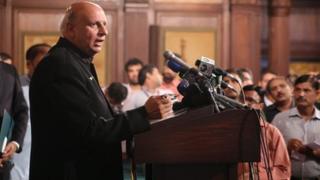 Former Glasgow Govan MP Mohammad Sarwar has resigned as governor of Punjab in Pakistan.
His departure comes two days after he criticised the federal government for failing to enter into a new trade partnership with the US.
The 62-year-old, who became Britain's first Muslim MP in 1997, tweeted that it had been an honour to serve.
However, he also criticised Pakistan's "injustice and corruption" which he claimed was "deep rooted".
He said he would continue to "strive for a better and secure Pakistan", adding: "I shall do everything possible to achieve a better and corruption free Pakistan."
---
Analysis
By M Ilyas Khan, BBC News, Islamabad
PM Sharif had specially invited Chaudhry Mohammad Sarwar to come to Pakistan and be the governor of Punjab after he won a majority in the 2013 election.
It appears he was asked to turn in his resignation following his controversial remarks at a public function in Lahore on Tuesday that US President Barack Obama's visit to India, while ignoring Pakistan, was a "diplomatic failure of Islamabad".
Such criticism of Mr Sharif's foreign policy is indicative of differences that have been simmering between him and Mr Sarwar since the August dharna - or sit-in - started by Imran Khan and Tahirul Qadri.
A PTI dissident, Javed Hashmi, claimed that Chaudhry Sarwar had been part of the so-called London Plan - a meeting he is said to have facilitated between Imran Khan and Tahirul Qadri to make plans for the sit-in. Mr Sarwar never categorically denied that claim.
Subsequently there have been frequent reports of his close contacts with Imran Khan's PTI party.
Some quarters speculate he might stay on in Pakistan instead of returning to the UK, and possibly help in re-organising the PTI on the lines of the British Labour Party.
Chaudhry Sarwar has no prior political legacy in Pakistan.
---
Mr Sarwar won his Scottish Westminster seat in Tony Blair's first Labour government.
He stepped down ahead of the General Election in 2010 and became governor of Punjab in 2013.
Earlier this week the millionaire businessman said it had been a failure of Pakistan's civil bureaucracy that Barack Obama had not visited the country.
While the American president did not sign a deal with Pakistan he entered into a multi-billion dollar trade and defence agreement with neighbouring India.
Following the resignation, Mr Sarwar published a number of tweets, including one which read: "I will continue serving Pakistan in my individual capacity."
He was born in Punjab, which is home to half of Pakistan's 180 million people, but came to Britain in the early 1970s.
Mr Sarwar, who gave up his British citizenship to take on the senior role in Pakistan, has spoken in the past of his early life as the son of a farmer, walking miles to school each day.
The father-of-four went on to become a very successful entrepreneur, making millions from a cash and carry business.
Mr Sarwar's son, Anas Sarwar, won the Westminster seat vacated by his father.