Monte Carlo Classic Rally hits the road in Paisley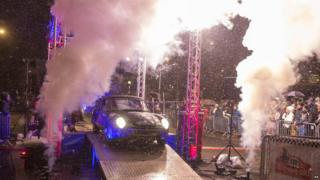 The UK start of the Monte Carlo Classic Rally has hit the road with cars flying off the ramp in Paisley.
About 70 classic cars - including Porsches, Mini Coopers and Linwood-built Hillman Imps - set off from Paisley Abbey.
They will join competing cars from the other start cities of Barcelona, Turin, Copenhagen and Reims on the 1,670-mile (2,688km) route to the French Riviera.
The rally is expected to generate more than £1m for the Renfrewshire economy.
The Monte Carlo Classic Rally was created by Prince Albert I of Monaco in 1911 and initially featured 23 cars starting from six different European cities.
Only 16 completed it, with Henri Rougier winning in a Turcat-Mery. The 104th rally marks the second consecutive year that Paisley has hosted the only UK start.
Renfrewshire's Provost Anne Hall said: "We are delighted to be able to host the world-famous event here in the historic town centre of Paisley."