Algae-hit Strathclyde Loch set for swimming area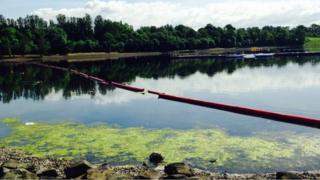 An open water swimming area is to be created in Strathclyde Park's man-made loch, after local officials announced measures to tackle toxic algae.
North Lanarkshire Council is to re-install temporary floating barriers which were used to keep the algae at bay during the 2014 Commonwealth Games.
The loch hosted the Games' triathlon but was closed weeks later because of problems with algae and pollution.
The council will use the same equipment for a 600m open water swimming area.
The boom will be installed at the end of March, and it is expected to take about three weeks for the water to be cleared of algae.
It should allow swimmers to use the water from mid-to-late April.
Temporary move
The move is a temporary measure, with the barriers being removed later in the year.
Officials from a range of bodies, including the Scottish Environment Protection Agency, are due to meet next week to discuss long-term solutions to the water quality.
Kenneth Wilson, head of environment and estates at North Lanarkshire Council, said: "As part of our legacy from the 2014 Commonwealth Games, we are able to use the equipment and expertise to create an area within Strathclyde Loch to host future triathlon and other open water swimming events.
"This builds on the huge success of the 2014 triathlon events held here, helping us attract other national and international sporting events to North Lanarkshire.
"The loch is a first-class venue and this facility will give a further boost to tourism and the local economy."