Glasgow bin lorry crash driver leaves hospital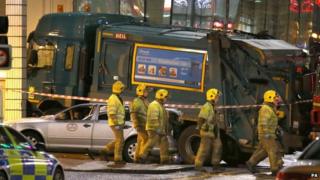 The driver of a council bin lorry that killed six people in Glasgow city centre has left hospital.
The 57-year-old man had been treated at the city's Western Infirmary since the tragedy on Monday 22 December.
A 14-year-old girl, who was among 10 people injured in the tragedy, has also been discharged.
A 64-year-old woman remains in a stable condition at the city's Royal Infirmary. A police report into the crash is due out at the end of January.
Police investigation
Police Scotland said on Tuesday that officers investigating the crash would complete a formal private report by the end of the month.
Justice Secretary Michael Matheson said he expected the Crown Office to outline a timescale for any further investigation by the end of February.
It is for the Lord Advocate, Frank Mulholland, to decide if a Fatal Accident Inquiry (FAI) will be held.
There has been no suggestion at this stage of criminal charges against anyone involved in the accident.
Funerals for the six victims have taken place.
A private mass was held for Stephenie Tait, 29, at Saint Thomas the Apostle Church in Riddrie, Glasgow, on Monday.
A service for Erin McQuade, 18, and her grandparents Lorraine, 69, and Jack Sweeney, 68, was held at St Patrick's RC Church in Dumbarton, West Dunbartonshire, on 3 January.
Services have also been held for tax worker Jacqueline Morton, 51, from Glasgow, and Gillian Ewing, 52, from Edinburgh.