Stephen McGowan death: Connor Grana and Graeme Carter jailed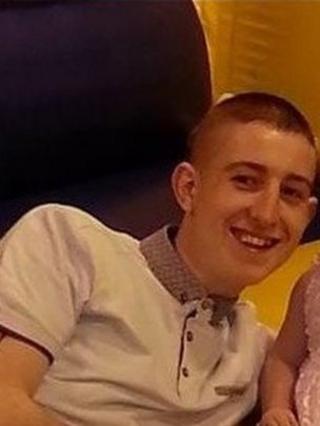 The killers of a stabbing victim who was hunted down in a taxi have been jailed after they admitted charges of murder and culpable homicide.
Connor Grana, 18, and Graeme Carter, 26, chased Stephen McGowan before following the 23-year-old in a taxi.
Grana then stabbed Mr McGowan as he frantically tried to gain access to flats in Greenock on 27 July.
Grana was jailed for at least 16 years for murder - Carter for nine years and nine months for culpable homicide.
Lord Bannatyne told Grana at the High Court in Glasgow: "This was an appalling crime - it was pre-meditated involving the use of a deadly weapon."
The judge told Carter he had played a "significant role" in the killing.
Grana showed no emotion as he was led to the cells, but Carter appeared to laugh as he left the dock.
Their trial heard that Grana and Carter chased Mr McGowan on foot through the streets of Greenock before the victim managed to hail a taxi.
'They're after me'
Driver Neil Munro said he noted that Mr McGowan was out of breath and told him: 'They're after me, they're going to stab me, want to just drive mate'."
Mr Munro told police that he looked in his rear view mirror and saw a man running at his taxi.
Mr McGowan, who he described as looking frightened, asked to be taken to High Street.
The court heard that Grana and Carter hailed another taxi, which was driven by Lee Cleary. He said he was told: "Follow that taxi."
The chase was captured on CCTV in the town.
Grana, who was sitting in the front passenger seat of the taxi, was asked why he was chasing Mr McGowan and replied: "Because the guy owes me lots of money."
When Mr McGowan was dropped off at flats in the town's High Street, at about 03:00, he began buzzing the close entry system.
Bid for help
But Grana leapt out of the pursuing taxi, in the driver's words "in a real hurry, Usain Bolt style".
While Carter paid the driver Grana stabbed Mr McGowan three times inside the close.
Despite being fatally injured, the victim managed to walk to his girlfriend's mother's house for help.
After knocking the door he collapsed and died.
The court heard that one of the stab wounds entered Mr McGowan's heart and another cut into a major blood vessel.
Grana admitted murdering Mr McGowan.
Co-accused Carter was originally charged with murder but the Crown accepted his guilty plea to the lesser charge of culpable homicide as he was involved in the pursuit of Mr McGowan but did not stab him.