Glasgow bin lorry crash: More than 1,000 at funeral for couple and granddaughter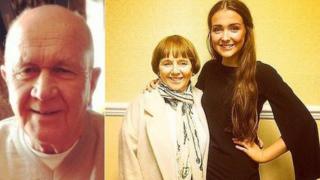 More than 1,000 people have attended a funeral service for three members of the same family killed in the Glasgow bin lorry crash.
Mourners gathered at St Patrick's RC Church in Dumbarton to remember Jack Sweeney, his wife Lorraine and their 18-year-old granddaughter Erin McQuade.
They died after being struck by an out-of-control bin lorry which crashed in George Square in the city centre three days before Christmas.
Three other people lost their lives.
Ten others were injured.
The requiem mass was celebrated by the Archbishop of Glasgow, Philip Tartaglia.
He said the three had been struck down in front of Mr and Mrs Sweeney's daughter and Erin's mother Jacqueline McQuade's eyes - and that a "festive and happy" Christmas shopping excursion to Glasgow had become the "worst of nightmares".
Archbishop Tartaglia described Erin as a light-hearted, caring family-loving girl.
He said: "Just as her life was opening up and she was spreading her wings, cruel fate took her away."
Archbishop Tartaglia said her grandparents had been very happily married for more than 45 years.
He said the accident had piled "tragedy on tragedy and sadness on sadness" on the family.
Archbishop Tartaglia told mourners: "Their last day on this earth said it all. Jack and Lorraine, Jacqueline and Erin went on a Christmas shopping trip. Three generations of the same loving family.
"They died as they lived - together. It is fitting that they should share the same funeral Mass. They will be buried in the same grave."
The crash also claimed the lives of primary school teacher Stephenie Tait, 29, from Glasgow, Gillian Ewing, 52, from Edinburgh; and Jacqueline Morton, 51, from Glasgow.
Earlier this week more than 1,000 people stood in silence during a two-minute vigil for the victims in the city's Royal Exchange Square.
People have left floral tributes and candles in the area, where the lorry first went out of control.