Scottish Ebola nurse Pauline Cafferkey 'was ready for danger'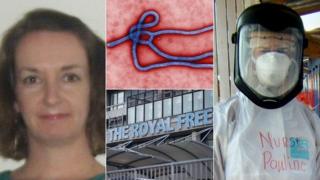 The Scottish health worker who is being treated for Ebola told the BBC that she was worried about volunteering to work in Sierra Leone but well prepared.
Pauline Cafferkey, an associate public health nurse at Blantyre Health Centre, South Lanarkshire, was part of a team that left the UK in November.
She told the BBC before travelling that there was "a certain element of fear" about working in the virus-hit country.
But she said team members had "a lot of training" to prepare them.
Speaking on BBC Radio Scotland's Good Morning Scotland programme, Ms Cafferkey said she was among about 1,000 NHS staff who had answered an appeal to help out in Sierra Leone.
'Natural thing'
She was selected to be part of the first wave of NHS volunteers to be deployed by the UK government.
Ms Cafferkey said she was excited and worried about spending five weeks helping Sierra Leone in its fight against Ebola.
"For me it was kind of a natural thing - I couldn't think of any reason why not to go," she said.
"I have experience in the past. I've done aid work, I've worked in Africa, so I didn't really think about it actually, I just did it."
Ms Cafferkey was part of a British group that consisted of about 30 healthcare professionals, including GPs, nurses, psychiatrists and emergency medicine consultants.
They were sent to the West African country's capital, Freetown, where they completed a week's training before starting work in Ebola treatment centres across the country.
Speaking to the BBC on 22 November, Ms Cafferkey said there was "a certain element of fear" before travelling, adding: "You don't want to be going into this complacent."
But she stressed the team had been thoroughly prepared for the danger they faced.
Worried and proud
"We've just undergone nine days of training with the MoD (Ministry of Defence) - fantastic training, state-of-the-art.
"We've done all sorts of things, scenarios, we've been wearing the suits and getting used to them, so we've had a lot of training behind us."
Ms Cafferkey acknowledged that the British medics' families would "obviously be very worried" about their safety but said: On the other hand, hopefully they'll be very proud of what we're doing as well."
The nurse said she would be working "hands on" in treatment centres around Sierra Leone, six of which had been built by the British government.
Ms Cafferkey said it was widely acknowledged that the initial international response to the Ebola crisis in West Africa had been "a bit slow initially" but this was improving.
"Things in Sierra Leone are are not quite under control yet, so there is still a lot of work to be done."
A diary of Ms Cafferkey's experiences in Sierra Leone was later published in The Scotsman newspaper.
'Horrendous' suit
The medic wrote: "From the minute I step off the plane in Sierra Leone, the smell of chlorine hits me and a thermometer is pointed at my head."
She told how the area containing the Ebola patients was classed as the Red Zone, with the safe Green Zone outside.
"Bizarrely we find ourselves saying 'good luck' to our colleagues prior to entering the Red Zone, a sobering reminder of what we are doing," she wrote.
Ms Cafferkey described the personal protective equipment, an "alien-type suit" that she had to wear in 30 degree heat, as "horrendous".
"When I get to the decontamination area and remove the suit and gloves, there are pools of sweat dripping from me and not a dry hair on my head," she wrote.
During the third week of her diary, the medic described "an awful shift" during which she had to tell a young boy, whose father had died from Ebola, that the virus had also killed his mother and sister.
"His mother had seen her daughter die in the bed across from her that morning and she died a few hours later," she wrote.
"The sad thing is that this is a regular occurrence and we see and hear of whole families being wiped out by this awful disease."
In the last week of her diary, Ms Cafferkey said there was "no sign of anything Christmassy" as the government had banned public gatherings.
She did, however, report the "fantastic" news of more people being discharged after being treated for the virus.
She wrote: "One particularly nice discharge was a brother and sister. There were lots of smiles, and they were fortunate to have a mother and father to take them home, which is not often the case."
Ms Cafferkey said the discharge process was "very important" for the patients and for staff morale, adding: "It helps us remember the good work we are doing and the reason we are all here."
Ebola is transmitted by direct contact with the bodily fluids - such as blood, vomit or faeces - of an infected person.
The virus has killed more than 7,800 people, mostly in West Africa, since it broke out a year ago.
The World Health Organization says the number of people infected by the disease in Sierra Leone, Liberia and Guinea has now passed 20,000.