Lorry crash teen 'improving' as four remain in hospital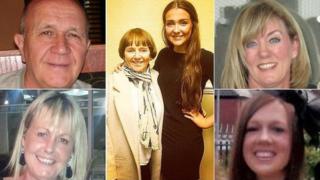 The condition of a 14-year-old girl seriously hurt in the Glasgow bin lorry crash is improving, according to doctors.
She is now said to be "stable" at Glasgow Royal Infirmary, where two other women injured in the crash are also being treated.
The 57-year-old man who was driving the lorry is also in a stable condition in the Western Infirmary.
Six people died in the crash in the city centre on Monday afternoon.
Jack and Lorraine Sweeney and their grand-daughter Erin McQuade were killed, along with Jacqueline Morton, Stephanie Tait and Gillian Ewing when the lorry careered out of control and crashed into pedestrians on Queen Street at George Square.
A further ten people were injured, but six have since been released from hospital.
Prayers have been said for the victims of the crash at Christmas Day services across Glasgow and Scotland. Six candles were lit at religious services in the city to remember those killed.
On Christmas Eve, thousands of people across the UK turned off their Christmas lights at 21:00 and observed a two-minute silence.
At a memorial service at St Andrews Catholic Cathedral, Philip Tartaglia, Archishop of Glasgow, told of how he tried to comfort Jacqueline McQuade, who saw her daughter and parents killed.
'Exhaustive inquiry'
Police Scotland is conducting a "thorough and exhaustive" inquiry into the crash.
Officers stressed there was nothing to suggest it was "a deliberate or malicious act", but appealed for any footage of the incident from mobile phones or other equipment to be sent to police.
George Square reopened to the public on Tuesday afternoon as metal cordons which had been put in place following the crash were lifted.
The city council lorry hit the first pedestrian near the Glasgow Gallery of Modern Art (Goma) in Queen Street, then mounted the pavement and travelled hundreds of metres, hitting several others before crashing into the Millennium Hotel at George Square.
Eyewitnesses said the lorry driver had been "slumped over his wheel" as the vehicle careered out of control.
Glasgow City Council confirmed that three employees were in the lorry before the crash.
The local authority has set up a fund for donations, which has already received £60,000 from the council and the Scottish government.