Bin lorry deaths: Names of Glasgow crash victims released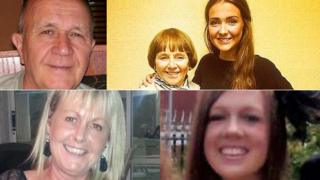 Police have released the names of the six people who were killed by an out-of-control bin lorry in Glasgow.
Jack Sweeney, 68, his wife Lorraine, 69, and their 18-year-old granddaughter Erin McQuade, all from Dumbarton, were among the dead.
Gillian Ewing, 52, from Edinburgh, Stephenie Tait, 29, and Jacqueline Morton, 51, both of Glasgow, also died.
The council bin lorry crashed in George Square after careering from Queen Street at 14:30 on Monday.
Ten other people, including the lorry driver, were injured in the crash.
Police said four casualties were being treated at Glasgow Royal Infirmary. One was in a critical condition, one was serious but stable, one was stable and the other was expected to be discharged later.
A further casualty was in a stable condition at the city's Western Infirmary. A sixth casualty was expected to be discharged later from the Southern General Hospital.
Ch Supt Andy Bates, of Police Scotland, said: "This is a tragic incident which occurred in the heart of Glasgow city centre at a time when people were preparing for the festive season. My thoughts are with the family and friends of those involved.
"My officers will continue to work with partner agencies to investigate the cause of the incident. If anyone has any information that may assist our inquiries please contact Police Scotland.
"I'm also aware that some members of the public may have video or images of the incident and it would be helpful if they could send them to georgesquareincident@scotland.pnn.police.uk A report will be submitted to the procurator fiscal."
More details have emerged about some of the victims and tributes have been paid to them.
Glasgow City Council has announced it is opening an appeal fund for those who were affected by the crash.
The council is donating £20,000 with the Lord Provost's Goodwill Fund and the Scottish government each donating a further £20,000.
The Lord Provost's Queen Street fund will begin taking public donations from Wednesday.
Lord Provost Sadie Docherty said: "We have had tremendous offers of support already. Glaswegians started calling us to offer donations almost as soon as this tragic incident happened.
"That's heart-warming but not surprising in a city which responds so well to tragedy."
Debit and credit card donations can be made by calling 0141 287 7878. Lines will be open Monday to Friday between 08:00 and 20:00 except on Christmas Day, Boxing Day and 1 and 2 January.
Donations can also be made at any bank using Sort Code 834400 and Account Number 10809775.
Anyone in need of support can call a dedicated helpline on 0141 287 0999.
The bodies of the victims were removed from the scene overnight in a fleet of private ambulances.
The square has reopened to traffic and pedestrians but the Christmas lights will remain off until Wednesday.
The Glasgow Loves Christmas attractions, including an ice rink and big wheel, will remain closed until noon on Boxing Day as a mark of respect to the victims.
The council has also opened a book of condolence at the City Chambers, near where the crash happened.
Glasgow City Council leader Gordon Matheson, Lord Provost Sadie Docherty and First Minister Nicola Sturgeon all spoke near the scene on Tuesday morning where hundreds of floral tributes have been placed.
Ms Sturgeon said: "Glasgow this morning is a broken-hearted city. 2014 has been such an incredible year for this wonderful city, the Commonwealth Games were such an outstanding success, but it is a year that has been bookended by two unimaginable tragedies, the Clutha at the end of last year and now this awful tragedy that unfolded here yesterday.
"But Glasgow is a resilient city, we saw last year and we have seen again in the last 24 hours the incredible spirit of the people of Glasgow and this city will pull together to support those who have been affected, not just in the days ahead but in the weeks and months to come."
On Tuesday morning, a service of remembrance for victims of the crash was held at the Church of Scotland's St George's Tron Church, located yards from the crash scene.
Presbytery Clerk and former Moderator Very Rev Bill Hewitt told the service: "We feel for the pain of others in this city."
He added: "We understand something of the burden carried the hearts by those who have lost loved ones, who are concerned for those in hospital, for emergency workers who have been on the frontline in meeting human need and offering themselves."
Roman Catholic Archbishop Philip Tartaglia will say mass for the victims at St Andrew's Cathedral in Glasgow on Wednesday.
The Queen has sent a message of condolence.
She said: "Prince Philip and I were saddened by the news of the tragic accident in Glasgow yesterday.
"Our thoughts and prayers go to the families of those who have lost loved ones and to those who have been injured.
"This sad event is made even more difficult as it comes at Christmas time. I send my condolences to all the people of Glasgow."
An investigation has begun but Police Scotland said there appeared to be nothing "sinister" about the crash.
It is known that the city council lorry struck a pedestrian outside the Gallery of Modern Art then mounted the pavement and travelled hundreds of metres, hitting several others before crashing ino the Millennium Hotel.
Eyewitnesses said the lorry driver had been "slumped over his wheel".
Glasgow City Council confirmed that three employees were in the lorry before the crash.
George Ieronymdis, owner of the Elia Greek Restaurant on George Square, said he had been told that some of the bin lorry's crew were seen jumping from the vehicle and holding their heads in their hands, looking devastated.
A spokesman for the Institute of Traffic Accident Investigators said that vehicles, even large ones, can carry on for a considerable distance if there is an "unintended acceleration", which could be caused by a driver falling ill.
"Without speculating on this incident, there might be a number of causes for a vehicle to travel a considerable distance," he said.