Santa fined for climbing 'cone-top' Wellington statue in Glasgow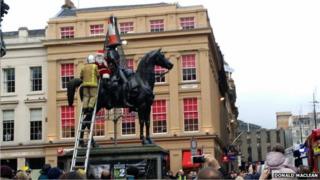 A man dressed in a Santa suit has been fined for climbing up Glasgow's cone-topped Wellington statue.
Police said the 51-year-old had been given a fixed-penalty ticket following the stunt at the iconic statue in Royal Exchange Square.
He scaled the statue and waved to passers-by, until fire crews arrived with a ladder and took him down.
The Santa was last seen entering a police van as the gathered crowd shouted: "Free Santa".
A police spokeswoman was keen to stress the man who was fined was not the real Santa. However, the man was not named by police.
It is understood the stunt was a protest by a father campaigning for access to his child.
As well as climbing the statue the Santa had tied a banner to its plinth, proclaiming that "kids have rights".
Times journalist Mike Wade was at the scene and tweeted a series of pictures.
The cone hat image of the Wellington monument has previously been named by Lonely Planet as one of 10 Scottish inclusions in a list of the top 1,000 sights in the world.
The tradition of placing a cone on the statue is thought to have been started by late night revellers in the 1980s.
In 2000, Glasgow City Council took down the cone for promotional tourist-related photography but replaced it after an outcry by local people and politicians.
Last year, a plan to raise the plinth of the statue, in a bid to end the cone-topping tradition, was dropped following a backlash by Glaswegians.
Images of the cone-topped statue are now used to promote Glasgow and feature on posters, coasters and key rings.
The statue of the Duke of Wellington, famous for defeating Napoleon at the Battle of Waterloo in 1815 and later becoming prime minister, was sculpted by Italian artist Carlo Marochetti and erected in 1844.