Glasgow 2014: Has the legacy of the games arrived?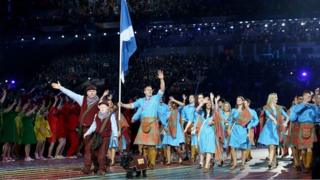 In July, amid a flurry of pipers, tartan, Scottie dogs and giant dancing teacakes the Commonwealth Games landed in Glasgow.
For 12 days the city played host to a sporting and cultural spectacle.
The Games, with a price tag of more than £500m, were hailed as the "best ever" but what made them so memorable and what legacy have they left in their wake?
First and foremost new sporting heroes were born.
"It's all still a bit of a whirlwind," says gold medal-winning swimmer Ross Murdoch.
Who could forget the look of stunned elation on the 20-year-old's face as he realised he had beaten Glasgow 2014 poster boy Michael Jamieson to claim gold in the 200m breaststroke?
"That infamous photo of me with my eyes wide open, well it's all still like that," he says.
"I still can't actually believe what happened in the summer."
And that's a view shared by others. His victory was one of many for Scotland - the team finished 4th in the medal's table.
The memorable sporting moments are too many to list - be it Hannah Miley's triumph in the pool, Eilidh Child and Lynsey Sharp's silver medal wins on the track, Libby Clegg's gold in the 100m, Scotland's dominance in the judo and bowls and of course "mailman" Charlie Flynn's post-fight patter after his boxing win.
At the velodrome, it was double gold for Neil Fachie and Craig MacLean in the para-cycling and back in the pool 13-year-old Erraid Davies from Shetland captured the nation's heart by claiming bronze in the para-sport 100m breaststroke.
But, away from the sporting side of things the city was also achieving hero-like status.
"I keep meeting people, even today, and everyone just says how amazing the city was during the games," says silver medallist Lynsey Sharp.
"Everyone is just so proud of the show that Glasgow put on."
And no-one more so that the man responsible for making it happen, former head of Glasgow 2014, David Grevemberg.
Back at the velodrome, reflecting on the success of the games, he describes a defining moment for him during the summer.
"As I was walking into Glasgow Green one of our Clydesider volunteers stopped me," he says.
"I believe she was 70-plus, and she said 'Glasgow will never be the same'.
"I said: 'Well m'am, why do you feel that?' and she said: 'Stop for a second and just look around'. So I stopped and I looked around and she said: 'Do you see it?'
"I saw it. Smiles. We had created enormous joy, enormous confidence and enormous pride all at the same time."
Magic wand
But in the east end of the city - where residents faced years of disruption and upheaval as new venues were built - now that the Games bandwagon has packed up and rolled out of town, is that sense of joy and pride wearing thin?
And what about that much hailed "legacy"?
"This community has been squeezed for the past seven years and there was a wee feeling that they had been forgotten about," admits local Labour councillor Yvonne Kucuk.
But, she is very hopeful for the future.
"The legacy has arrived," she proclaims on a walk around the site of a new £5m community hub in Dalmarnock.
It is being constructed opposite the former athletes' village, which itself is being converted into family homes with the first residents due to move in at the end of January.
"Seven years ago when we won the chance to host the games, we asked local people 'If you had a magic wand, what would the local legacy be?'
"Top of the list was a brand new replacement for the community facility in Dalmarnock, which was torn down to make way for the games' transport hub."
Ms Kucuk, alongside other residents and development agency Clyde Gateway, has had to fight to make that a reality.
And from the outset they were determined to ensure any new centre was designed, created and run by locals.
"That building, every brick, every blade of grass, every stone is owned and will be managed by this community," says Ms Kucuk proudly.
---
GAMES LEGACY: THE FIGURES
50 national Legacy 2014 programmes
Games have helped Scotland secure 37 high-profile national and international events, with estimated economic impact of £14m
150 Community Sport Hubs will be created across Scotland by 2016
More than 250,000 school pupils benefiting from Game On Scotland, the official education programme for the Games
150 Young Scot Youth Legacy Ambassadors
109 Cultural Programme projects with links to 26 Commonwealth countries
£5.5m awarded by Big Lottery Fund to help communities get more active
Active Places Fund has supported more than 150 projects, helping build and improve community facilities
More than 750 teachers have been trained to support disabled young people in PE
Scottish companies have won 68% of contracts associated with the Games
£5m Young Persons' Fund will provide 2,500 young people with work experience
---
However, others remain unconvinced when it comes to positive impact the games have had on the people of the east end.
"This is one of the areas with the highest density of poverty and unemployment in the UK," says Neil Gray from Glasgow University.
Confidence boost
He set up the Glasgow Games Monitor to track the benefits of the £500m spent on bringing the games to the city.
"I think in the long-term what you have seen in the east end is decades of disinvestment in the Clyde," he said.
"So, a lot of people have been subject to huge amounts of poverty, disenfranchisement, exclusion from some of the benefits that have accrued to people in the city centre.
"What's happened with the redevelopment and investment is that it has tended to go towards office and business development and private housing in general. So a lot of the people who live in that area just can't access those types of facilities."
And he is not convinced by the sporting legacy either.
"In terms of the sporting infrastructure, most people that live in that area can't actually afford to go and use the National Indoor Sports Arena in the east end."
However, for the some of the new sporting heroes of the games, the events of summer 2014 truly were life changing.
"It has really boosted my confidence and it's made me more determined every day in training," says Dan Wallace who famously shouted "For Freedom" after winning gold in the pool.
"It's just great motivation - the feeling you get when you have done well and you have succeeded. That's what keeps me going every day."
And back in the east end, success and achievement is also keeping Yvonne Kucuk motivated.
With the new community hub due to open in the spring, she talks of "hopes and aspirations" - of the children in the nursery, the apprentices working on the construction and the young people who will use the training facilities it will provide.
"It will change lives, not just for this generation but for generations to come," she says.
"There is probably not one person in Dalmarnock who does not know someone who has benefited from the games, and we have to build on that going forward."