Inspector's concern at 'lack of work' in HMP Shotts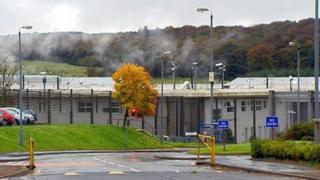 Scotland's chief inspector of prisons has criticised the lack of meaningful and productive work for inmates at a maximum security jail.
David Strang said it was of concern that the issue at HMP Shotts in North Lanarkshire had not been addressed since a previous inspection in 2013.
He also complained that most visiting times were on weekdays, meaning school children often missed seeing relatives.
Almost 25% of recommendations from the 2013 inspection were not achieved.
Mr Strang said HMP Shotts "has made good progress in addressing the 51 recommendations from the full inspection report in 2013", with 31 achieved, seven partially achieved, 12 not achieved and one deemed no longer applicable.
"Progress can be seen in relation to many of the recommendations made in the inspection report of 2013," he said.
"An area of concern identified in the full inspection related to the provision of work available to prisoners through the Scottish Prison Service national contracts. This has not been addressed.
"There is still a lack of meaningful and productive work available for prisoners, which represents a lost opportunity for constructive activity for long-term prisoners."
Anti-bullying strategy
Mr Strang also found that first aid-trained staff were not always on duty at the maximum-security male facility and an official anti-bullying strategy was not being implemented.
He also called for a review of the role and purpose of the prison's National Integration Centre, which is designed to prepare long-term prisoners for integration into mainstream establishments, and training for officers who tend to prisoners' personal needs.
The chief inspector of prisons said, however, that most prisoners reported that they felt safe and he witnessed good relationships between staff and prisoners.
He also praised work producing the Stir Magazine, which is supported by New College Lanarkshire, as an area of good practice and said he was "impressed by the work done in the prison in support of local charities".
HMP Shotts houses long-term prisoners, including those on life sentences.