Top actors back Glasgow for Scottish film studio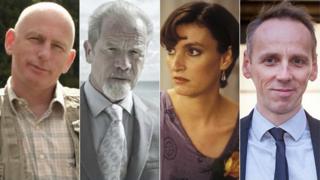 Some of Scotland's best-known actors have called for a national film studio to be based in Glasgow.
Peter Mullan, Daniela Nardini, Gary Lewis, Ewan Bremner and Martin Compston were among 63 industry names to sign an open letter calling for the move.
It has been sent to the Scottish Film Studio Delivery Group, which was set up by the Scottish government last year to look at options.
The letter said Glasgow has the best infrastructure for a Scottish studio.
It has also been signed by English actor Jack O'Connell, star of '71 and Starred Up, and stated that Glasgow is the only option for a Scottish film studio.
'Critical mass'
The letter said: "There is an existing critical mass of companies and facilities activity in the city, the major terrestrial broadcasters, over 50,000sq ft of sound and picture post production houses, new hotel developments, Glasgow School of Art, its world-leading Digital Design Studio and existing screen and creative micro-clusters such as Film City Glasgow and The Hub.
"Productions using Glasgow will enjoy close links to the city, existing cultural and hospitality amenities, together with the thicker pools of freelance workers and talent living in the city and surrounding areas.
"Indeed, Glasgow has the highest density of production crew and facilities companies anywhere in Scotland."
The letter also warned against other locations being selected over Glasgow.
It said: "Other sites currently under consideration, such as Cumbernauld and the M8 corridor, are compromises that will not deliver the double advantages of a connected, accessible facility, married with commercial sustainability.
"There is little appetite amongst the many skilled workers, screen companies, post houses, or facilities companies to permanently relocate outside an urban centre, and certainly wholly impractical for the many academic institutions delivering screen industry training to align themselves with an inaccessible, out of town screen facility."
The letter said that other sites may become viable options in the future.
It added: "Longer term, and once a more tangible critical mass of screen production companies and facilities exists, an Edinburgh-based facility could further complement Scotland's production offer."
The letter concluded: "We, the undersigned, ask the Scottish government, Scottish Enterprise and Creative Scotland to urgently reconsider any moves to develop a screen facility or studio outside of an urban centre and to recognise that currently, the metrics of place, connectivity, accessibility and sustainability can be only fully realised within the city of Glasgow."