Paul McManus guilty of brutal murder of Isabelle Sanders during robbery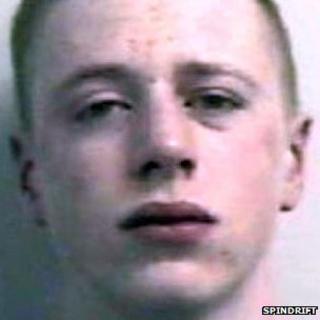 A man has been convicted of murdering a woman by stabbing her 37 times during a robbery at her home in Glasgow.
Paul McManus brutally killed 51-year-old Isabelle Sanders at her house in the city's Crookston area on 9 April.
He was also convicted of attempting to murder her partner, Norman Busby, 86, who survived being stabbed by McManus.
The 20-year-old from Glasgow was also convicted at the city's high court of two other robbery-related stabbings. He now faces a mandatory life sentence.
At the High Court in Glasgow judge Lord Armstrong told McManus: "This was a violent and vindictive murder of a woman in her own home and what was a cowardly attack on an 85-year-old man (now 86) who spent his life serving the community."
Friends blamed
Lord Armstrong added: "The only sentence which can be imposed is life imprisonment."
The judge will determine the minimum period McManus should spend in prison at a sentencing hearing in January. He has deferred sentence until then for background reports on McManus because of his age.
When the jurors returned their verdict McManus, who was guarded in the dock by three G4S officers, showed no emotion.
Advocate depute Bruce Erroch, prosecuting, told the court that he had a number of previous convictions for violence including offences involving knives.
Ms Sanders' brother James Dougall later called for the "severe punishment" of her killer.
He said: "We would now respectfully request the Scottish judiciary, and in particular Lord Armstrong, to support the Scottish government's justice policy and ensure public confidence remains in our justice system by imposing a severe sentence on the violent re-offender who has devastated our family.
"We would encourage everyone who agrees with this view to ensure their opinion is heard."
McManus had denied murdering Ms Sanders and had lodged a defence of incrimination, blaming his former friends Ross Arthurs and Christopher O'Reilly.
Both men denied being at Ms Sanders' home at 77 Raeswood Drive on the night of the murder.
'Covered in blood'
The jury heard how McManus was armed with a knife in each hand when he barged his way into Ms Sanders' home after the door had been answered by Mr Busby.
The 86-year-old described staggering back and being stabbed "several times" in the chest before Ms Sanders, who had been upstairs in bed, came to the top of the stairs.
Mr Busby said: "Isabelle screamed and ran down the stairs and she saw him standing there. I was lying on the floor covered in blood.
"She saw him stealing stuff and she tried to push him out the front door and he had his knives and he stabbed her several times.
"She fell to the ground covered in blood. I reached out but she was dead."
The court heard that after seizing car keys from the house, McManus left, taking £300 in cash, a decanter filled with whisky and a laptop. He could not start the car and fled.
Pathologist Dr Marjorie Turner told jurors that Ms Sanders had 61 separate injuries to her body and suffered 37 stab wounds, two of which were fatal.
Some of the stab wounds had sliced through bone and Dr Turner said these would have required "moderate force".
Mr Busby suffered two punctured lungs in the attack, which could have proved fatal without treatment.
DNA link
The court was also told by Mr Arthurs that McManus had confessed to him that he carried out the murder.
He said McManus told him he "couldn't stop" after attacking Ms Sanders, adding: "He said he stabbed her repeatedly on the head and shoulders. It was horrible."
He was accused by McManus' defence QC Gordon Jackson of making up the story, but Mr Arthurs told the court: "I'm not a novelist. You don't just make up things like that."
The jury also heard that a pair of jogging trousers and a tracksuit top belonging to McManus had the DNA of Ms Sanders on them.
The trainers he wore were never recovered. McManus threw them away in a bin in Glasgow city centre after buying a new pair with cash he had stolen from Mr Busby.
In evidence, McManus admitted the jogging trousers and tracksuit top were his, but claimed that on the night of the murder they were worn by Mr Arthurs.
McManus also told the jury that he had stabbed Mr Busby in a panic and was upstairs when Ms Sanders was stabbed by one of his friends.
The jury of nine women and six men took less than two hours to find McManus guilty of all charges.
'Horrendous attack'
He now faces a mandatory life term for murder.
Det Ch Inspector Jim Smith, from Police Scotland, said: "This was a horrendous attack on a vulnerable elderly man and his partner who were within their own home when McManus turned up at their door with violence and theft on his mind.
"Norman has been left shattered by the death of his partner Isabelle, who died a violent death in her own home at the hands of McManus who had no regard for the consequences of his actions.
"Understandably, it has been an incredibly difficult time for Isabelle and Norman's family, and I would like to pay tribute to them for their bravery and their courage throughout."