Glasgow Royal Infirmary has cleanliness failings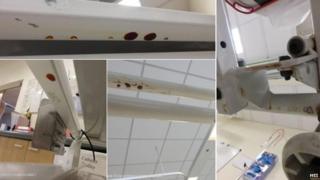 One of Scotland's largest hospitals has been told to improve its cleanliness after inspectors saw patient equipment spattered with blood and body fluids.
The failures at Glasgow Royal Infirmary were discovered during unannounced visits by the Healthcare Environment Inspectorate (HEI) in October.
Inspectors escalated their concerns to management after problems persisted over three inspections.
NHS Greater Glasgow and Clyde (GGC) said it had acted to address concerns.
The inspection team carried out its first unannounced visits to the hospital on 7 and 8 October.
HEI senior inspector Alastair McGown said the inspection identified "a number of areas where NHS Greater Glasgow and Clyde must make improvements."
'Not clean'
He added: "We were particularly concerned about the standard of patient equipment cleanliness in the accident and emergency department, where we found equipment which was not clean.
"We took action on our first day of inspection and escalated our concerns to senior management."
Mr McGown said HEI had requested that NHS GGC produce an action plan detailing how immediate improvements would be made to control the risk of infection.
"We returned to the department the following day to check on progress and although some improvements had been made, issues with the cleanliness of patient equipment remained," he said.
"On Wednesday 15 October, we carried out a further unannounced inspection to the accident and emergency department, following our earlier concerns.
"During this visit, we found further attention to detail was still required across the areas inspected. This inspection resulted in eight requirements and one recommendation. We will follow-up these concerns at future inspections."
In a statement, NHS GGC said it was "very concerned at the findings from the HEI report".
The health board said: "As soon as we received verbal feedback from the inspector following the visit our director of nursing wrote to all 38,000 staff to highlight her deep concern at the shortcomings identified at the visit.
"We are already progressing with a full and detailed action plan to address the requirements and one recommendation identified by this inspection."
The health board said it had also increased local inspections "across key areas".
NHS GGC added: "We cannot, and will not, tolerate serious breaches of standards by healthcare professionals and all other staff within any part of our healthcare system.
"We have been very clear and reinforced to all staff the importance of maintaining the high standards expected of them with regards to the health care environment for our patients."
'Simply unacceptable'
Health Secretary Shona Robison said: "Clearly, at the Glasgow Royal Infirmary standards have fallen well short of expectations and some of the inspector's findings are simply unacceptable.
"Hospital cleanliness and infection control compliance is paramount in preventing and reducing the spread of infection and I have spoken to the chair of NHS Greater Glasgow and Clyde to make clear that I am expecting significant improvements at the Glasgow Royal Infirmary.
"NHS Greater Glasgow and Clyde have told us how seriously they are taking this inspection report and have asked Healthcare Improvement Scotland to work with them to put in place policies and practices quickly that will improve quality and standards."
Ms Robison said the Scottish government would ensure HEI continued to "monitor standards" at the hospital and "ensure the necessary sustained improvements are being made".