Hulk and Fonz back Scottish Sunday league minnows EK Milan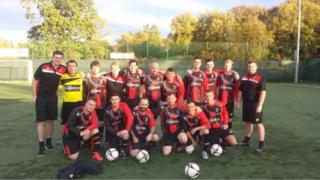 Hulk Hogan and Fonz actor Henry Winkler have joined celebrities backing a Scottish Sunday league team heading for their first cup final.
EK Milan, from East Kilbride, have used the #FeelMilan hashtag to gain support ahead of the Glasgow and District Sunday Football League cup clash.
Winkler told the boys to keep their cool by keeping on target.
Chairman and player Gary Henderson said that the side's first season had been all about riding a "wave of momentum".
He told the East Kilbride News they decided to seek out high profile fans as the results came in.
He said: "It started off as a bit of a laugh. Then one morning I woke up to a tweet from Hulk Hogan and it got serious.
"We never expected to get to the cup final in our first season so we wanted to get a bit of a buzz around it.
"To ride that wave of momentum until the final we decided to get on Facebook and Twitter to see if we could get endorsements from as many celebrities as we could."
Hogan told the team to "kick some ass", while other messages of support are said to have come from Take That's Gary Barlow, crooner Engelbert Humperdinck and Trainspotting author Irvine Welsh.
EK Milan play Southside Burgh in the cup final on Sunday 14 December.