Go Ape opens indoor trampoline arena in East Kilbride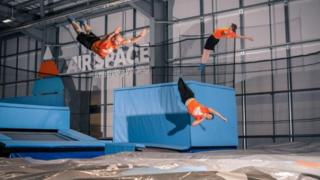 Outdoor adventure firm Go Ape has opened a huge indoor trampoline arena in South Lanarkshire.
The £2m facility, known as Air Space, features more than 100 interconnected, wall-to-wall trampolines covering more than 35,000 square feet.
The arena is situated at Playsport, near Stewartfield in East Kilbride.
Indoor trampoline parks are hugely popular in the United States. Similar parks run by other firms are planned for Glasgow and Edinburgh.
Pete Brown, operations manager at Air Space, said: "The indoor trampolining phenomenon is massive in the US in Australia and we've had an amazing response already showing that Scotland is definitely ready to embrace this fantastic leisure concept.
"We're very excited to now be opening our doors and unleashing Air Space to Scotland. As Europe's largest freestyle jumping area, jumpsters will be spoiled for choice at all the activities on offer."