Hundreds protest against Trident nuclear weapons at Faslane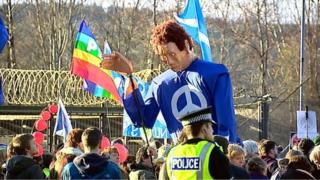 Hundreds of demonstrators have been protesting against the basing of the UK's nuclear deterrent at Faslane.
The naval base, situated on the Clyde, is home to the submarines which carry the Trident weapon system.
The Scrap Trident Coalition said the demo had support from all over Scotland, as well as backing from the Scottish government.
Police Scotland estimated that about 1,400 people took part in the rally and that there were no arrests.
Liz Findlay, who was co-ordinating a bus from across the Borders, said: "I was born in Kintyre and have been aware of Polaris and Trident all my life - we frequently saw the submarines round that lovely coast.
"I'm 63 now and will go on protesting against these weapons, hopeful that in my life time we will see the dismantling of them."
Florian Hansen, of Scottish Young Greens, said: "We banned biological and chemical weapons long ago and now the time has come to ban nuclear weapons."