Nicola Sturgeon and David Cameron mark St Andrew's Day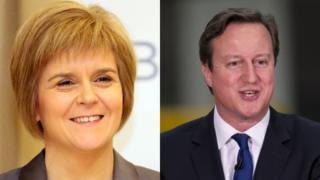 Politicians from across the political divide have reflected on the referendum campaign as they marked Scotland's national day.
First Minister Nicola Sturgeon used her St Andrew's Day message to say that 2014 had been "a year like no other".
And she said she looked to the future with renewed optimism after the independence debate.
Meanwhile, Prime Minister David Cameron said people across the UK and the world would be celebrating.
Mr Cameron said the Saltire would be flying above 10 Downing Street, as he described how he was "just one of the millions of people who were relieved, proud and delighted that Scotland decided to stay" in the independence referendum.
He added: "There was one big message at the heart of our campaign: We can have a strong UK and a strong Scotland - with its own identity and achievements to celebrate. That's what St Andrew's Day is all about.
"As we celebrate St Andrew's Day, we celebrate Scotland, this great nation of culture and enterprise, of pride and passion, whose countrymen and women gave the world the steam engine, the television, penicillin, James Bond, Harry Potter - even the Higgs boson.
"Today, Scotland's national day, the world shows its admiration for those achievements, and the bagpipes will ring out from the islands of Argyll to the streets of New York."
'Wonderful time'
Mr Cameron said UK embassies and high commissions around the world would be "flying the flag for Scotland", while people "in every corner of our country" would be celebrating St Andrew's Day.
In her message, Ms Sturgeon, who succeeded Alex Salmond as both first minister and SNP leader earlier this month, said St Andrew's Day was "a wonderful time to reflect on Scotland's many contributions to the world - our people, our history and our culture".
She stated: "2014 has been a year like no other for Scotland, during which we welcomed the world to our Year of Homecoming, the Commonwealth Games in Glasgow, and the Ryder Cup at Gleneagles.
"The referendum debate was a wonderful display of peaceful democracy in action which re-energised our politics and challenged all politicians to respond to the expectations and aspirations of our citizens. As we reflect on the past, we look to the future with renewed focus and optimism."
Ms Sturgeon said Scotland was an "outward looking nation" and added: "As first minister, I recognise the importance of Scotland working together with our friends in Europe and across the globe to secure a better, more prosperous and peaceful future for all."
Meanwhile, it has been confirmed that Ms Sturgeon will have her first audience with the Queen during a visit to London on 10 December.
Ms Sturgeon will also be sworn in as a member of the Privy Council - a group of advisers to the Queen, most of whom are senior politicians - on the same day.