Lorna McVey admits neglect after child drank methadone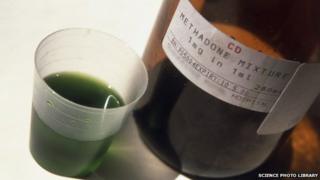 A drug addict has admitted a neglect charge after an 18-month-old child in her care swallowed methadone.
Lorna McVey, 36, from Ferguslie Park, Paisley, admitted leaving the toddler alone unsupervised with access to the prescribed heroin substitute.
Paisley Sheriff Court heard how the child and her sibling, aged almost three, were taken to hospital and kept in overnight as a precaution.
McVey will now be supervised after being given a community payback.
The court heard how McVey had gone to a local pharmacy to collect her methadone prescription, leaving another woman in charge of the two children.
'Pool of methadone'
On her return, the temporary baby sitter left and McVey placed a paper bag, with four bottles of methadone, on a kitchen work top.
A chair had been jammed against a broken washing machine door to prevent it from opening and when she went to the toilet, leaving the children alone, they were able to climb up and reach the bottles.
On her return, McVey found both children on the carpet "in a pool of methadone".
The youngest child had traces of methadone on her clothing and lips and McVey became hysterical and ran to a neighbour's house to seek help.
That person called the hospital for advice then instructed her husband to take the children straight to Paisley's Royal Alexandra Hospital.
A consultant said the little girl had shown signs of being "sleepy" and ordered charcoal treatment with the substance administered by gastric tube.
Both children were kept in overnight as a precaution.
Imposing a two-year community payback order, Sheriff Robert Fife told McVey: "This was a highly irresponsible set of circumstances which could have had tragic consequences. Fortunately, there was no long-term harm."
The sheriff added: "I have a strong suspicion that these bottles had been opened and not by either of the children as they would have been fitted with child-proof devices."