Ronnie Coulter faces retrial over Surjit Singh Chhokar murder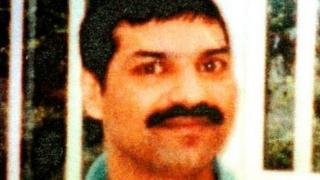 Three high court judges have granted prosecutors permission to retry one man accused of murdering the Lanarkshire waiter Surjit Singh Chhokar.
They said 46-year-old Ronnie Coulter could be re-prosecuted under double jeopardy legislation.
They ruled that two other men, Andrew Coulter, 33, and David Montgomery, 37, cannot face trial for a second time.
All three men were previously cleared of murdering Mr Chhokar, 32, in Overtown, North Lanarkshire, in 1998.
The ruling followed a hearing at the High Court in Edinburgh earlier this month before judges Lord Carloway, Lady Dorrian and Lord Malcolm.