Former Rangers owner Craig Whyte held at Heathrow Airport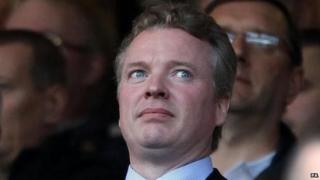 Former Rangers owner Craig Whyte has been arrested after arriving in the UK from Mexico where he had been detained.
The 43-year-old was held at Heathrow Airport on Thursday and will be taken to Scotland for an expected appearance at Glasgow Sheriff Court on Friday.
He is being held on an arrest warrant in relation to an investigation into his takeover of Rangers in 2011.
Mr Whyte was detained in Mexico after being refused entry. Extradition proceedings were not required.
A Police Scotland spokesman said: "A 43-year-old man has been arrested on an outstanding apprehension warrant in connection with alleged involvement in a fraudulent scheme to acquire Rangers FC and alleged offences in contravention of the Companies Act (2006).
"A report has been submitted to the procurator fiscal."
Earlier, a Crown Office spokesman said: "We have been advised that the warrant for Craig Whyte has been executed by the Mexican authorities.
"Our International Co-operation unit, working with Police Scotland's Fugitives Unit and the National Crime Agency, will take the necessary steps to secure his appearance at Glasgow Sheriff Court to answer the warrant."
Others charged
Mr Whyte took control of Rangers in May 2011 but the club went into administration in February the following year.
Four men have already appeared in court charged with fraudulent activity following the investigation into the sale of Rangers.
David Grier, 53, Paul Clark, 50, and David Whitehouse, 49, worked for Duff and Phelps - Rangers' administrators.
The fourth man, Gary Withey, 50, worked for law firm Collyer Bristow, which represented Mr Whyte before he bought Rangers from Sir David Murray for £1 in 2011.
All four made no plea or declaration at Glasgow Sheriff Court and were granted bail ahead of a future hearing.
Mr Grier, Mr Clark and Mr Whitehouse were also charged with attempting to pervert the course of justice.
A separate arrest warrant was also issued last week for Mr Whyte after he failed to attend a hearing at the Royal Courts of Justice in London in relation to a separate legal case.
He has been sued for about £18m by Ticketus in relation to his acquisition of Rangers.