Major challenges for NHS Lanarkshire out-of-hours service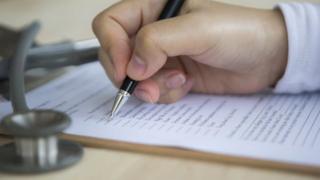 NHS Lanarkshire's out-of-hours service is planning a three-month consultation from January to combat the major challenges it is facing.
The Lanarkshire out-of-hours service provides urgent medical care at the evenings and at weekends, when GP practices are closed.
The service is "under consistent pressure" due to the low numbers of GPs available.
The formal consultation follows an extensive review over the past year.
On average, the service sees about 1,500 people each week at its out-of-hours centres, carries out 300 home visits and provides phone advice to 177 patients.
At times one or more of the out-of-hours centres in Lanarkshire has had to close temporarily and fewer GPs have been available for home visits.
'Consistent pressure'
Craig Cunningham, head of South Lanarkshire Community Health Partnership, NHS Lanarkshire, said: "As is the situation in other parts of the country, we are under consistent pressure due to the low numbers of GPs who are available to work sessions in the service.
"Our priority is to provide the people of Lanarkshire with a safe, person-centred and effective out-of-hours service that best meets their needs. It is simply no longer possible to do that without making changes to the existing service model.
"Frequently staff availability is extremely unpredictable and as a result patients often have to wait longer to be seen than they should."
The review has included a survey of people using the service, focus groups with staff, patients and GPs and presentations to local committees and community groups.
'Safe and sustainable'
At an event on 4 November, stakeholders identified two preferred service models which NHS Lanarkshire will take out to further consultation.
The options were either one primary care out-of-hours centre at Douglas Street Community Health Clinic in Hamilton, or two primary care out-of-hours centres, one in Airdrie Community Health Centre and the one in Hamilton.
Dr Andrew Manchip, clinical director of the NHS Lanarkshire out-of-hours service, said: "Both of these models offer the opportunity to provide a fully safe and sustainable service. They would enable patients to be seen sooner and with less disruption to the service than we currently experience.
"Both service models would be person-centred offering a more predictable and highly effective service.
"The locations - which were partly chosen for their accessibility to the majority of Lanarkshire's population, offer large, community-based, fit-for-purpose facilities that have the right equipment and right staff, and are open at the right times."