Isabelle Sanders murder trial: Witness denies attack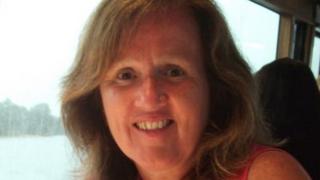 A man who told a murder trial that his friend confessed to killing a woman and stabbing her partner in their home has denied carrying out the attack himself.
Ross Arthurs, 28, was asked if he had stabbed Isabelle Sanders, 51, and attacked Norman Busby, 86, at the couple's home in Crookston, Glasgow.
He told the High Court in Glasgow: "Absolutely not".
Accused Paul McManus, 19, denies carrying out the attacks and has blamed Mr Arthurs and Christopher O'Reilly.
Mr Arthurs was giving evidence for a second day at Mr McManus' trial.
The 19-year-old denies murdering Ms Sanders and attempting to murder her partner Mr Busby on 9 April and had lodged special defences of incrimination, naming the two other men.
'Disgusting' ordeal
Defence QC Gordon Jackson put it to Mr Arthurs that he, Mr O'Reilly and Mr McManus were all at Ms Sanders house on the night she was killed.
He said: "The three of you ended up robbing and in the house at Raeswood Drive."
Mr Arthurs replied: "No, he murdered that woman. We weren't there. What he put that family through was disgusting.
"As far as I'm aware Paul was in the house on his own. I don't know if Christopher O'Reilly was there."
Mr Jackson then said: "It wasn't Mr McManus that stabbed them. It was one of you two," and Mr Arthurs said: "No, I couldn't go out and do that to anybody."
Referring to the confession which Mr Arthurs claimed Mr McManus made to him, Mr Jackson said: "He told you, according to you, that he stabbed the woman first and then the man, evidence we have heard suggests that this was the wrong way round."
Mr Arthurs said: "That's what I was told by Paul McManus."
The witness was accused of making up the story about the alleged confession and replied: "I'm not a novelist. You don't just make up things like that."
Forensic examination
Mr Arthurs said after the alleged confession he asked Mr McManus how he felt and claimed the accused replied: 'I didn't feel anything about it."
The court heard that detectives and forensic scientists searched the crime scene for three days.
Det Insp Aileen Boyle told the court she was the crime scene manager for the inside of the house.
She told prosecutor Bruce Erroch about postage stamps with foot impressions on them and a cheque book also with foot impressions on it.
The jury was also shown photographs of bloodstains in the living room and a blood smear on the living room wall.
Insp Lorna Carnochan said she and her team of officers examined the grounds of the house.
She said that computer cables, a computer mouse and a phone handset with blood on it were found in the garden area.
Insp Carnochan also said that a set of car keys with a bloodstained fob was found in the Nissan Almeira parked in the driveway.
The keys were discovered in between the passenger seat and the driver's seat.
The trial, before judge Lord Armstrong, continues.