Early Charles Rennie Mackintosh artwork restored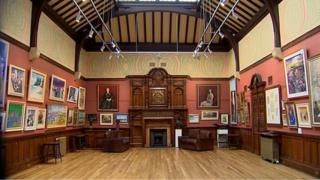 One of Charles Rennie Mackintosh's earliest works has been recreated on the walls of the Glasgow Art Club.
In 1893, when the architect was 25, he stencilled the wall frieze.
As the years passed by, the work became unfashionable and was damaged by water so it was covered up by plaster.
The recreated mural will now be the showpiece of the club following a three-year refurbishment at a cost of £1.2m.
Ranald MacInnes, from Historic Scotland, said: "We had an inkling that there might be something below the years and years of paintwork, but to discover it is still there - it is a bit like finding a Rembrandt in the attic."
The problem the club faced in the refurbishment was that the removal of the plaster would damage the stencilling, while recreating the work required evidence of what it originally looked like.
Roger Bilcliff, who runs his own gallery and writes about Mackintosh, said: "This is Mackintosh feeling his way and it's very important as it was the first decorative scheme that Mackintosh put his name to.
"We started off with very little and Chris Allan, the artist, did an enormous amount of detective work in comparing what little evidence we had and what Mackintosh was doing elsewhere."
One of the artworks the club studied was at Craigie Hall in Drumbeck, while there were also small clues around the club about Mackintosh's work.
Now, it is hoped the restored work will bring in a new generation of art lovers and aspiring artists to the club.