Second arrest warrant issued for Craig Whyte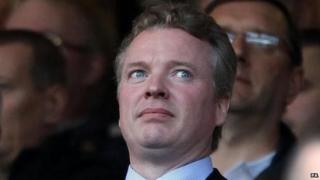 An arrest warrant has been issued for former Rangers owner Craig Whyte after he failed to attend a court hearing.
He had been due to appear at the Royal Courts of Justice in London, where Ticketus are suing him for about £18m over his part in the Rangers takeover.
Mr Justice Newey issued the arrest warrant after Mr Whyte failed to appear following previous failures to show.
A separate warrant for Mr Whyte's arrest was issued in Scotland last week over a separate case.
Following Thursday's hearing in London, a spokeswoman for Ticketus said: "Today's court hearing is part of Ticketus' continued activity to enforce its judgment of April 2013 for damages of £17.7m plus interest and costs against Craig Whyte, as it looks to recover funds for its investors.
'Contempt of court'
"This reflects the total amount Ticketus invested through the ticket purchase agreement it entered into with Rangers Football Club under Craig Whyte's ownership.
"Ticketus confirms that the court today issued a warrant for Craig Whyte's arrest, having previously issued a suspended committal order on 29 September 2014 returnable today after finding Craig Whyte to be guilty of contempt of court."
A spokesman from the judicial press office also confirmated that Mr Justice Newey had issued an arrest warrant for Mr Whyte.
The warrant is separate to one which was issued last week in relation to an investigation into Mr Whyte's takeover of Rangers in 2011.
Four other men have appeared in court charged with fraudulent activity following a probe into that sale.
David Grier, 53, Paul Clark, 50, and David Whitehouse, 49, worked for Duff and Phelps - Rangers' administrators.
Gary Withey, 50, worked for law firm Collyer Bristow, which represented Craig Whyte before he bought Rangers from Sir David Murray for £1.
All four made no plea or declaration at Glasgow Sheriff Court and were granted bail ahead of a future hearing.