Prisoner John Clark jailed for murdering Barlinnie cellmate Colin Penrose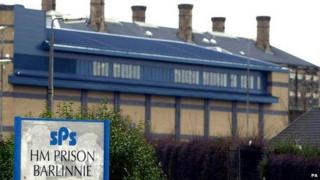 A prisoner who murdered a cellmate because the victim was a sex offender has been jailed for at least 19 years.
John Clark, 22, bound the hands of Colin Penrose and strangled him with a shoelace in the cell they shared at Glasgow's Barlinnie Prison.
The High Court in Glasgow was told Clark did this after learning Penrose was a sex offender.
Judge Michael O'Grady QC told him: "You acted as judge, jury and executioner, quite literally in this case."
In evidence, Clark denied murder and claimed it was an elaborate fake hostage set-up which went disastrously wrong.
Clark, who was serving a sentence for an assault and robbery at the time, said the intention was that he would get moved to another prison and Penrose could claim compensation from the authorities.
However, the jury rejected his story and found him guilty of murder.
Sentencing Clark, from Ayr, to life, Judge O'Grady QC said: "This was an appalling crime. Mr Penrose must have suffered a frightful and terrifying death at your hands.
"Mr Penrose was a young man who had his life in front of him, a life snatched away by your wickedness.
"By a twisted logic some criminals such as you consider themselves morally superior to those prisoners who have committed sexual offences."
The jury heard that prison officers rushed to the cell at 02:00 after an alarm went off.
They found 22-year-old Penrose, who was from Oban, lying on his back with his hands tied and a shoelace round his neck.
Clark was sitting in the same cell calmly watching the show American Dad on television.