Paul McManus on trial over murder of Isabelle Sanders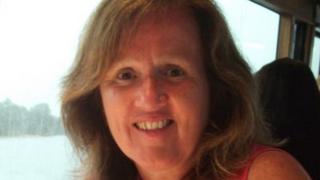 A 19-year-old man has gone on trial accused of murdering a woman and trying to kill her 85-year-old partner in their Glasgow home.
Paul McManus is charged with attacking Isabelle Sanders and Norman Busby after allegedly breaking into their property in Crookston in April this year.
It is claimed he fatally stabbed the 51-year-old and attempted to murder her partner having demanded car keys.
He denies all charges. The trial at the High Court in Glasgow continues.
The indictment also claims Mr McManus stole money, a computer, cables and a decanter from the couple as well as trying to rob them of their car.
Other charges
He is then accused of attempting to defeat the ends of justice after committing the alleged attacks.
This includes claims he removed bloodstained clothes and gloves and ordered another man to hide or get rid of them.
Mr McManus faces a separate charge that on 8 April, he assaulted and tried to steal a car from Daniel O'Donnell outside a Spar shop in the city's Barrhead Road.
He is further accused of trying to rob Ching Long Law of a mobile phone on 2 April in Nitshill Road, Glasgow.
A joint minute - facts agreed between the prosecution and the defence - was read to the jury. The first witness in the case is expected to be heard on Wednesday.