Rangers' liquidators win £24m Collyer Bristow cash claim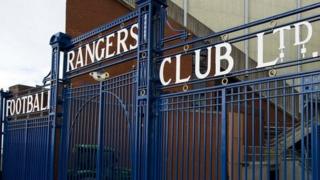 The liquidators of The Rangers Football Club plc have secured a £24m payment from lawyers who acted for Craig Whyte when he bought the club in 2011.
In BDO's latest statement to creditors, they reveal that Collyer Bristow agreed to settle the matter out of court.
BDO also asked administrators Duff and Phelps for "detailed explanations regarding certain aspects of the strategy implemented by them".
They have also agreed to part fund the ongoing defence of Rangers use of EBTs.
The defence in being led by the Murray Group, the company of former Rangers owner Sir David Murray who sold the club to Craig Whyte for £1 in 2011.
In their statement, BDO state: "The joint liquidators are now able to advise that, following protracted negotiations subsequent to a mediation in June of this year, a settlement of the Part 7 claim has been concluded with Collyer Bristow."
'Excellent outcome'
The reports adds: "The joint liquidators consider that the settlement represents an excellent outcome for the creditors of the liquidation estate."
With regard to the request for information from Duff and Phelps, the report states: "Once full explanations have been obtained, the joint liquidators will consult with their legal agents and the committee regarding what further action, if any, will be required in relation to the matter."
Meanwhile, four men have appeared in court charged with fraudulent activity following a probe into the sale of Rangers in 2011.
David Grier, 53, Paul Clark, 50, David Whitehouse, 49, and 50-year-old Gary Withey made no plea or declaration at Glasgow Sheriff Court and were granted bail.