Four men in court over alleged fraud after Rangers sale in 2011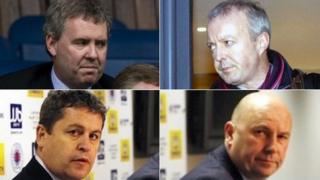 Four men have appeared in court charged with fraudulent activity following a probe into the sale of Rangers in 2011.
David Grier, 53, Paul Clark, 50, and David Whitehouse, 49, worked for Duff and Phelps - Rangers' administrators.
Gary Withey, 50, worked for law firm Collyer Bristow, which represented Craig Whyte before he bought Rangers from Sir David Murray for £1 in 2011.
All four made no plea or declaration at Glasgow Sheriff Court and were granted bail ahead of a future hearing.
Mr Grier, Mr Clark and Mr Whitehouse were also charged with attempting to pervert the course of justice.
Dawn raids
All four men were detained during dawn raids on Friday in England and later arrested.
They were all charged with a fraudulent scheme.
Mr Withey, from Woking, also faces a charge under the Companies Act 2003.
Mr Whitehouse, from Wilmslow, and Mr Clark, from Esher, each face two charges of attempting to pervert the course of justice.
Mr Grier, from Wokingham, is also alleged to have attempted to pervert the course of justice.
Rangers post
Mr Whitehouse, Mr Clark and Mr Grier were employees of MCR Partners, prior to its acquisition by Duff and Phelps, in October 2011.
Duff and Phelps acted as Rangers administrators from 14 February 2012.
Mr Withey worked for Mr Whyte's London law firm Collyer Bristow before he took on a post with Rangers.
The four men are expected to appear at court at a later date.
On Friday, a warrant was issued for former Rangers owner Craig Whyte following an investigation into the clubs sale to him from Sir David Murray in 2011.