Craig Whyte arrest warrant issued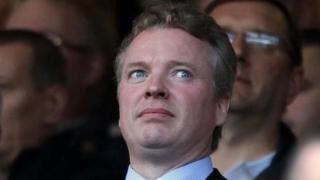 An arrest warrant has been issued for former Rangers owner Craig Whyte following an investigation into the club's sale in 2011.
Four other men detained during raids in England earlier have now been arrested.
David Grier, Paul Clark and David Whitehouse worked for Duff and Phelps, who were Rangers' administrators.
Gary Withey worked for law firm Collier Bristow, which represented Craig Whyte before he bought Rangers from Sir David Murray for £1 in 2011.
The four men were held during early morning raids at addresses across the UK in an operation that involved officers from Police Scotland, Surrey Police, Cheshire Police and Thames Valley Police.
Police Scotland have been investigating the sale of Rangers from Sir David Murray to Craig Whyte for more than a year.
'Ongoing investigation'
On Friday evening, a spokesman for Police Scotland said: "Following an operation on Friday 14 November, four men have been arrested and are presently detained in police custody in connection with the ongoing investigation into the alleged fraudulent acquisition of Rangers FC in 2011."
The men - two of them aged 50 and the others 49 and 53 - are expected to appear at Glasgow Sheriff Court on Monday.
Earlier, Duff and Phelps spokesman Marty Dauer said the firm was aware that three employees in the UK had been "detained for questioning in connection with work performed for Rangers Football Club".
He said this work "was commenced while these employees were part of MCR Partners, prior to its acquisition by Duff & Phelps in October of 2011".
He added: "Duff & Phelps has performed an internal investigation and commissioned an independent investigation of the related matters.
"As a result, we believe that our work for Rangers was conscientious, thorough and properly performed in every respect.
"Duff and Phelps has actively co-operated with all relevant investigating authorities throughout this process."
No wrongdoing
Mr Dauer said a subsequent review by the Insolvency Practitioners Association in 2013 had "cleared the firm of any wrongdoing or conflict of interest" over its involvement with Rangers.
Rangers manager Ally McCoist said: "Obviously I can't or wouldn't comment on a current police matter, but I would have to say I'm shocked.
"Obviously I can't pre-judge what is going to happen.
"Our concern has always been for the staff and supporters. What's happened to us in the last two-and-a-half, three years has been very tough, particularly on the staff and supporters.
"We just want to continue with our attempts to get the club back to where we feel we belong."
The developments are the latest twist in a three-year saga involving Rangers.
Mr Whyte bought Rangers from Sir David Murray for £1 in May 2011 and gave an undertaking to settle its £18m Lloyds Bank debt.
It later emerged he paid the debt by selling three years of season tickets to finance firm Ticketus for £25m.
Rangers entered administration on 14 February 2012, while under Mr Whyte's control, over non-payment of tax totalling about £14m.
Mr Clark and Mr Whitehouse from Duff and Phelps were appointed as joint administrators.
HMRC subsequently rejected a creditors agreement which would have allowed Rangers to exit administration.
That resulted in Charles Green's consortium taking control and Rangers being accepted to play in the Scottish Third Division.
The administration and subsequent liquidation of Rangers resulted in Mr Whyte's deal with Ticketus being declared void. The finance firm successfully sued him for £18m over the failed deal.
Mr Whyte was later banned from being a company director for the maximum period of 15 years after a judge heard his conduct in dealing with Rangers was "shocking and reprehensible".