Lyndsay Stirling jailed for battering frail OAP in Glasgow home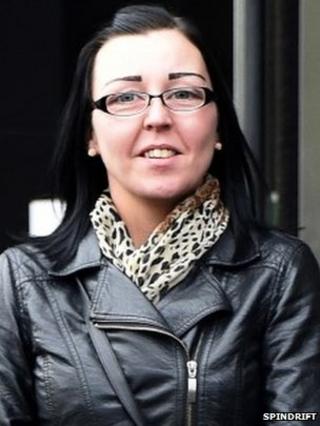 A former carer who launched a drunken attack on an 80-year-old man in his home after saying, "you're my step-dad", has been jailed for 17 months.
Lyndsay Stirling, 28, battered Daniel Martin at his home in Easterhouse in the early hours of 1 January this year.
Glasgow Sheriff Court heard how she smashed the pensioner in the face with her elbow before continuing to batter him as he lay on the ground.
Stirling, who admitted the attack, was detained by Mr Martin's family.
Jailing her, Sheriff John Beckett QC told Stirling: "You assaulted an 80-year-old man in his own home. He was a complete stranger and he did you no harm.
'Terrible crime'
"In fact he may have done you kindness. We will never know because he has been left traumatised and you can't remember.
"You repeatedly punched him on the head and body then put your foot on his body with pressure."
The sheriff said he took into account Stirling's good work record as a cleaner and a carer and the fact she had admitted her guilt and had suffered from public revulsion at her crime.
Sheriff Beckett added: "You brought that on yourself when you committed this terrible crime. It is obvious in the aftermath of this incident some informal retribution was enacted immediately."
The court heard that Stirling had spent Hogmanay drinking with her husband and other relatives at a bar in Glasgow city centre.
Unpaid taxi fare
She left after a row and ended up in Easterhouse after a taxi driver dropped her off there when she could not pay a fare.
Mr Martin had returned to the home he shared with his daughter after seeing in the New Year at a neighbour's house.
The court was told his daughter returned home to find her father bruised and dishevelled in his torn pyjamas on the floor.
Other relatives quickly arrived and asked Stirling why she was there.
Stirling again claimed Mr Martin was her stepfather before then insisting she was his home help.
She then raced out the house and climbed a fence, but was caught until police arrived.