'James Bond' vehicle link to £16m drug haul off Ayrshire coast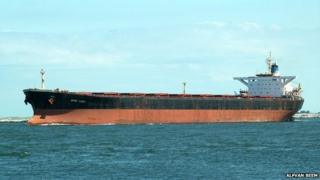 Four Dutch men have gone on trial accused of trying to smuggle more than £16m of cocaine into the UK on board a vessel off the North Ayrshire coast.
Police discovered 108kg of the drug in the rudder area of Cape Maria, moored 2.8 miles from Largs, on 9 May.
Leeds Crown Court heard that a planned recovery operation involved a "James Bond" type underwater vehicle.
All four men, aged 68, 49, 23 and 22, deny conspiracy to import illegal drugs into the UK. The trial continues.
The court heard that customs officers found more than 50 packages of extremely high purity cocaine in the rudder space of the vessel at Hunterston, near Largs.
'Enormous' haul
Following the discovery, Arnold Van Milt, 49, Roderick Van Doesburg, 23, and Darryl-Jay Van Doesburg, 22, were arrested at Seamill Hydro that evening.
Henri Van Doesburg, 68, was arrested in Aalsmeer, in the Netherlands, the next day.
Paul Mitchell, prosecuting, told the jury the "enormous" amount of the drug had a potential street value of around £16.2m.
The prosecutor said Arnold Van Milt, Roderick Van Doesburg and Darryl-Jay Van Doesburg all had scuba diving experience and planned to access the drugs in the ship from the outside.
When police searched their car and an inflatable speedboat, they found dry suits, other scuba diving equipment and a Seabob.
Describing the underwater vehicle to the jury of nine women and three men, Mr Mitchell said: "You might have seen them used by James Bond and James Bond's adversaries."
He added: "It's the kind of thing you use if you need to travel underwater at high speed."