Government fails to overturn £36,000 compensation for asylum seeker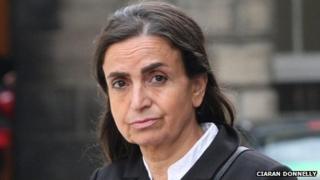 The UK government has failed in a bid to overturn a £36,000 damages award to a Glasgow-based asylum seeker for wrongful detention.
Nemah Shehadeh, 60, was held after an attempt to deport her to Jordan failed in January 2008 when she claimed to be a stateless Palestinian.
A judge previously ruled she had been unlawfully detained from 2008 to 2009.
Three appeal judges upheld that ruling saying the authorities had breached the legal principles that govern detention.
The court heard how Ms Shehadeh previously lived in Saudi Arabia with her husband, from whom she is now separated.
False passport
She was issued with a six-month visitor visa to come to Britain on the basis that she was a Jordanian citizen and arrived in August 2002 but overstayed.
Ms Shehadeh was arrested in 2005 at London's Heathrow airport with her as they were attempting to use false French passports to travel to Canada.
She was subsequently convicted of using a false passport at Hillingdon Magistrates Court and sentenced to four months imprisonment with a recommendation for her deportation.
Following her release, Ms Shehadeh was neither detained nor deported and went on to make an asylum claim which was rejected in 2007.
In January 2008, she was flown to Jordan but on arrival told immigration officials that she was Palestinian and as a result was refused entry to the country.
In July of that year, the Jordanian embassy told Home Office officials that Ms Shehadeh was not one of their citizens and had only been issued with a temporary travel document by the country's authorities.
It was then proposed that Ms Shehadeh be detained while her case was considered. This involved detention for 12 months from August 2008.
After her release in 2009, Ms Shehadeh brought a case against immigration officials at the Court of Session in Edinburgh for wrongful detention.
'Risk overstated'
Lord Tyre awarded her damages and said: "There has never been any suggestion that she posed any risk to the public if at liberty.
"As regards risk of absconding, I accept the submission that this was significantly, and sometimes grossly, overstated in the monthly detention reviews."
Following that decision, an appeal was lodged on behalf of Home Secretary Theresa May.
But Lord Drummond Young, sitting with Lady Dorrian and Lord Philip, said that Lord Tyre was "fully justified" in concluding that from August 2008 onwards the immigration authorities were "in breach of legal principles that govern the lawfulness of detention in such circumstances".
"The petitioner's detention for the following year accordingly amounted to the delict of wrongful imprisonment, for which she is entitled to payment of damages," said Lord Drummond Young.
Ms Shehadeh, considers herself to be a stateless Palestinian, although the Home Secretary regards her as a Jordanian national, judges heard.
She was born in 1954 in the West Bank which was part of Jordan at the time.