Glasgow 2014: Commonwealth Games 'was £25m under budget'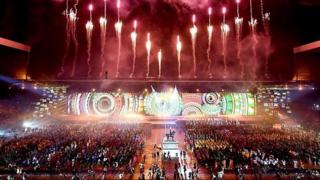 The Commonwealth Games in Glasgow this summer was delivered £25m under budget.
Lord Smith of Kelvin, chairman of Games organiser Glasgow 2014, said that was the amount of "previously committed public funds" that was not required.
The final budget position will not be finalised until the closing accounts of the organising committee are published early next year.
The total Games budget was £575.6m. This figure included £472.3m for Glasgow 2014 and £90m for security.
The Glasgow 2014 budget of £472.3m was made up of £372m of public money with the remainder coming from commercial income generated through sponsorship, ticket sales, broadcasting rights and merchandise sales.
The budget included contingency of £66.1m, which was made up of a £42.3m general contingency and £23.8m special reserve.
'Made history'
Glasgow 2014 said that "an outturn forecast of £25m of underspend" meant that the special reserve had not been required.
Lord Smith said: "From the outset, the focus of the Glasgow 2014 Organising Committee and our Games partners has been delivering a world-class Games for the Commonwealth which would make the people of Glasgow and Scotland feel proud.
"Throughout the journey - and working closely with our Games partners - the team at Glasgow 2014 has focused on achieving excellence and also value in everything we've done."
Lord Smith added: "It gives me considerable pride to now be able to say that Glasgow and Scotland have made Games history - and have done so well within budget."
News of the budget underspend was conveyed to MSPs at Holyrood by First Minister Alex Salmond.
Health benefit
"A tremendous amount of work went into delivering the Games and I am delighted to be able to announce that operations have concluded under budget," he said.
"We have already announced that £6m will go into Scotland's first ever para-sports centre and £2m will support our successful Legacy programme.
"The remaining funds will be invested back into Scotland's health service."
Mr Salmond added: "It is clear that the benefit of the Glasgow 2014 Commonwealth Games will be felt in Scotland for generations to come."
Glasgow City Council leader Gordon Matheson said: "The Glasgow 2014 Commonwealth Games raised the bar in so many ways, from preparing the venues, hosting the competitions, ceremonies and cultural programme and on to the legacy that we are currently enjoying.
"So it's no surprise to find that all the previously-committed public funds were not required.
"The Games were undoubtedly one of Glasgow's greatest successes, and were an achievement we should all take great pride in."