Child liquitab injuries 'plummet' in Glasgow area after campaign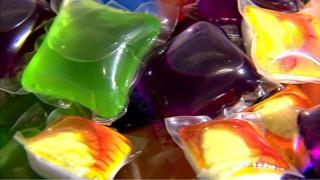 The number of children injured due to ingesting liquitabs has "plummeted" in the Glasgow area since the launch of a major awareness campaign, according to NHS Greater Glasgow and Clyde (GCC).
In contrast to previous years, no child has been hospitalised due to liquitab ingestion since the August 2013 launch.
Children can mistake liquitabs for sweets, due to their bright colours and jelly-like texture.
However, they can cause serious injuries if ingested.
During the year 2010 to 2011, the Royal Hospital for Sick Children at Yorkhill treated 18 children for ingesting liquitabs, nine of whom had to be admitted for treatment.
NHS GCC launched "Not for play - keep them away" together with the Royal Society for the Protection of Accidents (RoSPA), after doctors warned about the dangers of liquitab ingestion in 2012.
As part of the campaign, free cupboard-catches were given to families in the Glasgow area with a three or four-month-old child.
The families were also given information packs, containing instructions on how to keep all household cleaning products securely stored away from children.
'Real impact'
Liquitabs contain alkaline chemicals which if ingested can cause immediate chemical burns, and breathing problems as the airway starts to swell rapidly.
Getting children affected to hospital quickly is imperative, as the consequences could potentially be fatal.
Consultant Haytham Kubba, from Glasgow's Royal Hospital for Sick Children, said he drew a direct link between the reduction in related hospital admissions and the campaign.
He had previously, expressed worries that this was a problem that was not going away.
"The campaign managed to reach around 16,000 families directly which I believe has had a real impact on the decline in cases we see," he said.
NHS GCC said it was "delighted" with the results of the campaign.
Lesley Nish, a NHS GCC health improvement senior, said the campaign would continue, and that families would continue to receive the packs and information from their health visiting team.