West Dunbartonshire Council writes off poll tax debt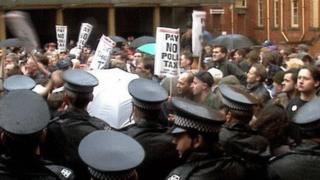 West Dunbartonshire Council has scrapped £8m of unpaid poll tax ahead of Scottish government moves to stop authorities chasing the historic debt.
The council decided to stop collection, which was running about £25,000 a year.
It said ministers planned to compensate councils for outstanding amounts in line with current collection rates.
Moves to stop unpaid poll tax recovery were announced after it emerged councils were using the electoral register to track people down.
West Dunbartonshire Council leader Martin Rooney said: "The poll tax was widely acknowledged as an unjust taxation system that unfairly punished the poor and eased the burden on those with the deepest pockets.
Reimbursement call
"People rightly opposed it and that is why it was abolished so quickly.
"We support the Scottish government's promise to write-off historic poll tax debt, but it also follows that the Scottish government should fund this decision by reimbursing West Dunbartonshire for the loss of income."
Cllr Rooney added: "Tens of thousands of local people paid their taxes and wouldn't want essential council services to suffer from this move."
The poll tax, or community charge as it was officially known, was introduced in Scotland from 1989.
It was hugely unpopular and abolished after only four years in 1993.
The Scottish independence referendum in September prompted a large increase in the number of people registering to vote.
First Minister Alex Salmond said that, more than 20 years since the poll tax came to an end, the expanded electoral roll should not be used to claim those unpaid debts.
It is estimated that historic poll tax debt across Scotland's 32 local authority areas runs to about £425m.