Royal Marines to parade in Glasgow for Freedom of City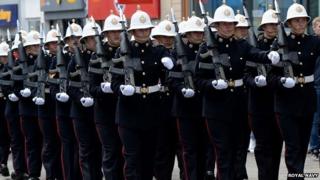 The Royal Marines will parade through Glasgow on Saturday as the regiment receives the Freedom of the City.
The decision to bestow the honour - Glasgow's highest - was taken by the city council last year.
The authority wanted to mark the Royal Marines long association with Glasgow and the regiment's 350th anniversary.
Lord Provost Sadie Docherty will award the honour to Commandant General, Major General Martin Smith, at a special ceremony in George Square.
More than 100 commandos will converge on the city for the ceremony, including the Clyde based 43 Commando Fleet Protection Group, The Band of Her Majesty's Royal Marines Scotland, veterans and Royal Marine Cadets from the Glasgow area.
The presentation will be made in George Square at 10:45.
'Highest respect'
The commandos will then exercise their Freedom with swords drawn, bayonets fixed, drums beating and colours flying in a second march across the city, during which the Lord Provost and Major General Smith will take the salute.
The council voted to bestow the honour following a motion last year by Veterans Champion, Councillor Malcolm Cunning.
He said: "Since its formation, the Royal Marines has enjoyed strong links with Glasgow and continues to have a permanent presence in the city, through the Glasgow detachment of the Royal Marines Reserve Scotland, which was raised in Glasgow in 1948.
"Council wishes to demonstrate its highest respect for the proud history of the Royal Marine Corps and the dedication and sacrifices it continues to make to protect the interests of the United Kingdom."
The award will be the third time that Glasgow has awarded the Freedom of the City on a large scale to military personnel.
The Highland Light Infantry (City of Glasgow Regiment) were honoured with Freedom of Entry into the City in 1948 and the Royal Highland Fusiliers in 1959.
Comedian Billy Connolly was the last person to receive the award in 2010.
Other recipients include Kenny Dalgleish, Sir Alex Ferguson, David Livingstone, Jim Watt, Aung San Suu Kyi and Nelson Mandela.