Glasgow 2014: Games medical equipment sent to Africa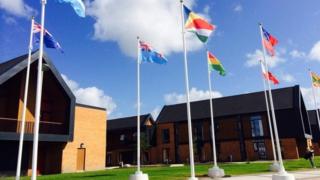 Medical equipment from the Commonwealth Games in Glasgow is to be shipped to Africa to help women with problems in childbirth.
The unused equipment from the Athletes' Village medical centre is worth about £10,000.
It includes stethoscopes and blood pressure monitors.
It is being donated to Perth-based charity the Freedom From Fistula Foundation which works in Kenya, Malawi and Sierra Leone.
With more than 4,500 of the world's top athletes staying there during the Games, the Athletes' Village in the east end of Glasgow, was built with its own state-of-the-art "polyclinic" to provide medical support for the teams and their officials.
Some of the unused health equipment is now being passed on to the Scottish charity.
The Freedom From Fistula Foundation provides free maternity care and surgery to help women injured in childbirth and works in a range of Commonwealth countries.
David Grevemberg, Glasgow 2014 chief executive, said: "We're really proud to be able to contribute in a small way to the vital and transformative work for Commonwealth women undertaken by this small but empowering Scottish charity.
"The foundation is changing the lives not just of thousands of individual women, but also those of their families and communities, and I am delighted we are able to contribute in a practical way."
Businesswoman Ann Gloag, founder of the Freedom From Fistula Foundation, said: "We are so grateful to Glasgow 2014 for donating this equipment to help our teams working in Africa.
"The equipment will make a substantial difference to our maternity and fistula projects in the Commonwealth countries we work in, and will ensure the continuing legacy of Glasgow 2014 beyond Scotland."