Sword man David Wardrop told to avoid politicians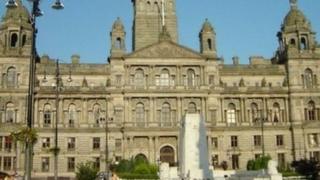 A man who threatened to kill Glasgow City Council leader Gordon Matheson with a samurai sword has been ordered to keep away from politicians.
David Wardrop, 29, from Bearsden, East Dunbartonshire, took the weapon to the City Chambers on 2 June.
He told police it was "to assassinate the leader of the City Chambers".
Wardrop admitted to breaching the peace and possessing a weapon. He was given a community payback order and told to get help to improve his mental health.
Glasgow Sheriff Court heard that Wardrop entered Glasgow City Council headquarters, where there were two receptionists and one member of the public.
He asked to speak with Mr Matheson and was asked if he had an appointment to which he replied "justice".
'Just justice'
When questioned what he meant he said "just justice".
The staff noticed Wardrop was holding a sword in his right hand which was partially covered by his right leg and told him he was not allowed in the building with it.
He was asked to leave and made his way to the pavement outside.
A worried receptionist followed Wardrop who was seen kneeling down holding the sword with both hands across his body.
He was asked to hand it over, which he did, and the receptionist put it behind the desk inside.
The court heard Wardrop came back into the waiting area and the police were contacted.
When they arrived they asked Wardrop about the sword and he said "It was to assassinate the leader of the City Chambers".
The court was told a rucksack and a sheath was found outside the building.
Sheriff Joseph Platt handed Wardrop a community payback order with a number of conditions including that he will be supervised for three years.
He must also work with a doctor during this time to improve his mental health.
The sheriff also ordered that Wardrop must not approach or contact, or attempt to approach or contact, any elected council member.