Two men to face trial over 2004 murder of Martin Toner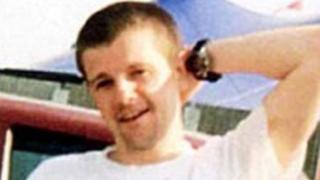 Two men are to stand trial for murder following the discovery of a body in a field in Renfrewshire 10 years ago.
Douglas Fleming, 48, and John McDonald, 56, are accused of killing 34-year-old Martin Toner whose body was found by a farmer near Langbank in July 2004.
They are alleged to have stabbed Mr Toner and cut his throat on 29 June.
Lawyers for both accused entered not guilt pleas during an appearance at the High Court in Glasgow. Judge Lady Rae set a trial due to begin in March 2015.
The murder is alleged to have occurred after the accused induced Mr Toner to travel from the Key to Life Gym in Glasgow's Pollokshields area to the village of Langbank in Renfrewshire.
False information claim
Both men are then accused of attempting to defeat the ends of justice between 29 June and 14 October 2004.
This includes an allegation that Mr Toner's body was left under a hedgerow at a field at North Glen Farm in Langbank before his body was found on 13 July 2004.
It is also claimed that knowing Mr Toner's wife Michelle had reported her husband missing, the pair provided false information to her and the police.
A blood stained shirt is further said to have been disposed of.
Mr Toner was due in court on drug trafficking charges at the time of his death.