Great Tapestry of Scotland to be shown at New Lanark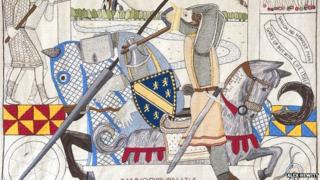 The world's largest embroidered tapestry, the Great Tapestry of Scotland, is to be exhibited at the New Lanark World Heritage site.
The 143m-long artwork tells the story of Scotland's history in over 160 panels.
It is Scotland's largest ever community project, with over 1,000 stitchers having taken part.
The New Lanark exhibition will run from 20 October to 23 November and entry is free to the public.
So far this year, the tapestry has been visited by more than 100,000 people as it has been exhibited throughout Scotland.