Man jailed for embezzling £70,000 from British Airports Authority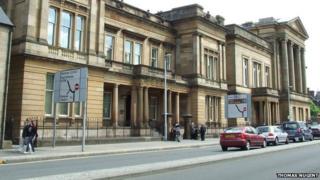 A man who stole nearly £70,000 while working for the British Airports Authority has been jailed for 18 months.
Christopher McMahon, 26, from Glasgow, transferred money to his personal bank account over a four-month period starting in September 2012.
McMahon was employed in the Support Services team. He admitted a charge of embezzlement at Paisley Sheriff Court.
He had built up significant debts at the time of the offence.
McMahon had a gambling habit and had begun to drink to excess.
Depute fiscal Hazel Emmerson said that the accused had responsibility for areas including airport energy services while working at the organisation's Carlson House HQ in Hillington.
'Lots of debts'
In February last year it was discovered that some accounts did not balance.
Duplicate payments had been made to Airport Energy Services for £64,815.33, one of which had subsequently been repaid to a personal bank account belonging to McMahon's cousin. The sum was later transferred to McMahon's own account.
A full-scale investigation began and it was also discovered that McMahon had transferred £3,390 to another bank account. The recipient of the sum was not a recognised supplier.
Police became involved and in June last year, detectives traced him to premises run by Saltire Boxing, where he was a personal trainer.
Mrs Emmerson said that the accused told police he had "lots of debts", had been borrowing money from family members as well as taking out "pay day" loans and everything "was getting on top of him."
He had also ended up working for individuals who were "involved in criminality."
He admitted that he "regretted" his conduct.
'Vicious spiral'
Defence agent Manus Tolland said that his client had accumulated debts from gambling online which led to the house he had shared with a previous partner being repossessed. She had left him, leading him to increase his drinking and gambling habits.
The solicitor said it was a vicious spiral and that all of the money embezzled had been used to pay off debts.
"It got to the point where the level of debt and repayment became unsustainable," he added.
The lawyer said that McMahon was now in a new relationship and had curtailed his drinking. McMahon had a new job as a driver and he was keen to avoid imprisonment "in order to continue to recover from a very dark period of his life."
"It is his declared intention to do what he can towards repayment of these sums," he added.
After studying reports and considering submissions and testimonials, Sheriff James Spy told the accused that it was "a very sad case."
He said that it was a "serious betrayal of trust" that involved "some degree of sophistication".
McMahon, a first offender, was jailed for eighteen months.