Seven drug arrests in cross border raids in Glasgow and Liverpool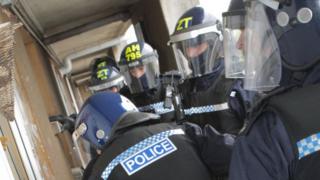 Three men have been arrested in Glasgow and four people in Merseyside as part of a co-ordinated police operation against organised crime.
Titan, the north west's regional organised crime unit, carried out the raids with help from Merseyside Police and Police Scotland.
The arrests follow an investigation into the supply of illegal drugs from the north west of England.
A further two men were arrested in prison in northern England.
Titan had investigated the supply of cocaine, heroin and amphetamine from the north west of England into Scotland other parts of England.
The nine arrests were made on Thursday morning. Three men aged 27, 29 and 52 were arrested in Glasgow after officers executed search warrants at three properties.
A further six properties were searched in the Huyton, Garston, Kirkdale, Breeze Hill of Liverpool and in Kirkby, where two men, aged 35 and 32, and two women, aged 31 and 35, were arrested. Two men, aged 43 and 48, were arrested in prison.
All nine people are now being questioned on suspicion of conspiracy to supply Class A and B drugs.
'Untold misery'
Det Supt Jason Hudson, head of operations at Titan, said: "Today's arrests should strike a major blow to organised crime groups both in our region and elsewhere in the UK.
"Our operation has uncovered large amounts of illegal drugs being supplied by criminals from the north west to their counterparts in other towns and cities elsewhere in the UK. "
Det Insp Graeme Lindsay, of Police Scotland's Organised Crime and Counter Terrorism Unit, said: "I hope today's operation sends yet another warning signal to those involved in it that we will do everything we can to continue to identify them deal with them appropriately.
"Organised crime is a blight on our communities, it causes untold misery across Scotland and indeed the UK.
"Our partnership with organisations such as Titan seeks to strengthen our capability to tackle such crime, share intelligence and assist in operations like the one today. We will continue to relentlessly pursue individuals involved in organised crime."